Many take stock of 100 days. I was planning to do that too, but somehow the 100 days got away. That's why we open our logbook and now take stock of 118 days: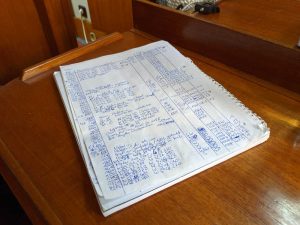 We are now 118 days on the go and have during this time 2340 miles Leave wake - that's about 4,329 km (for landlubbers). We were on the right way in these 118 days 41 days, so we didn't sail a meter on 77 days. This somehow fits the stories of other long-distance sailors who speak or write of a maximum of 30% sailing days.
During this time, we ran the engine for 210 hours while doing so 343 liters of diesel burned. That is about five engine hours per driven day. We often have 24-hour sailing days. The engine time includes the canal trip through the Caledonian Canal and the time in which the engine hums unproductive in front or in locks. We turn it off as often as possible, but sometimes it had to hum in the locks.
The trend is clearly falling in the engine hours, we now prefer to wait for the right wind.
We have been using the Watermaker since August 1st 1395 liters of water manufactured. Our average water consumption is around 20 liters a day or 10 liters per person. I don't think we're too bad with that. We do not save water and drink a large part of our own production.
We found the best showers in Oban, Port Ellen, Belfast and Sines. The worst showers were in Wicklow (none), Dublin (cold) and Douglas (you feel like you're in jail).
We had three bigger ones Defects. First was that Watermaker incontinent, the manufacturer has supplied us with a replacement device. After that, the watermaker no longer caused us problems, just water. We had to Heat exchanger the engine cooling, luckily we had a spare part on board. And then we still have a thimble from the Mainsail torn out. The sail maker was able to fix that quickly.
There were two unusual occurrences in the logbook: First, we received the pan-pan call from a Belgian sailor just before Guernsey, who was driving an hour's drive away without an oar, machine or sail. We changed our course, luckily the Belgian was caught by a fisherman. And then between Peniche and Oeiras we received the man overboard signal from an AIS SART MOB alarm transmitter 3 miles away. After a short radio conversation with the owner, we were able to put the alarm to the file, which luckily only tested the device in the cockpit.