At Boot 2019 in Düsseldorf, I walked around the booth with the Parasailor a few times, because Bobby Schenk (my big idol) and some (many) other long-distance sailors and circumnavigators have praised this sail.
The main thing that prevented me from ordering was the price. I noticed that at Boot 2018. My friend Jörg B. accompanied Jens and me while walking through the fair and then somehow said to me: "Order the thing now, otherwise we won't get anything here today."
Okay, I ordered the part. As a "knife discount" there was only the design in the desired colors. So I chose the colors in black, white and red. Connoisseurs know why.
The handover and instruction with the sail was in May, as I had already blogged. Now I can write more about the sail, it has been attached for a few days and is proving itself hour by hour. For example, yesterday we had a half wind course with 12-14 kn wind. Normally, i.e. under genoa and mainsail, Sissi runs about 3-4 knots with a half wind of this strength. With the Parasailor it was 5-6 kn, depending on the wave.
Once pulled up, the sail does about as much work as the engine does after starting. No. It is practically not necessary to trim the sail, you only do this once. Then it's good. According to the manufacturer, the "light wind sail" can be used up to 30 kn. At the moment that still seems utopian to me. I think I would leave it up to a maximum of 20 or 25 kn, at least in the half wind. Sissi had lean angles that I had never seen before. Or that they usually only reach at 6-7 Bft. But we were quick.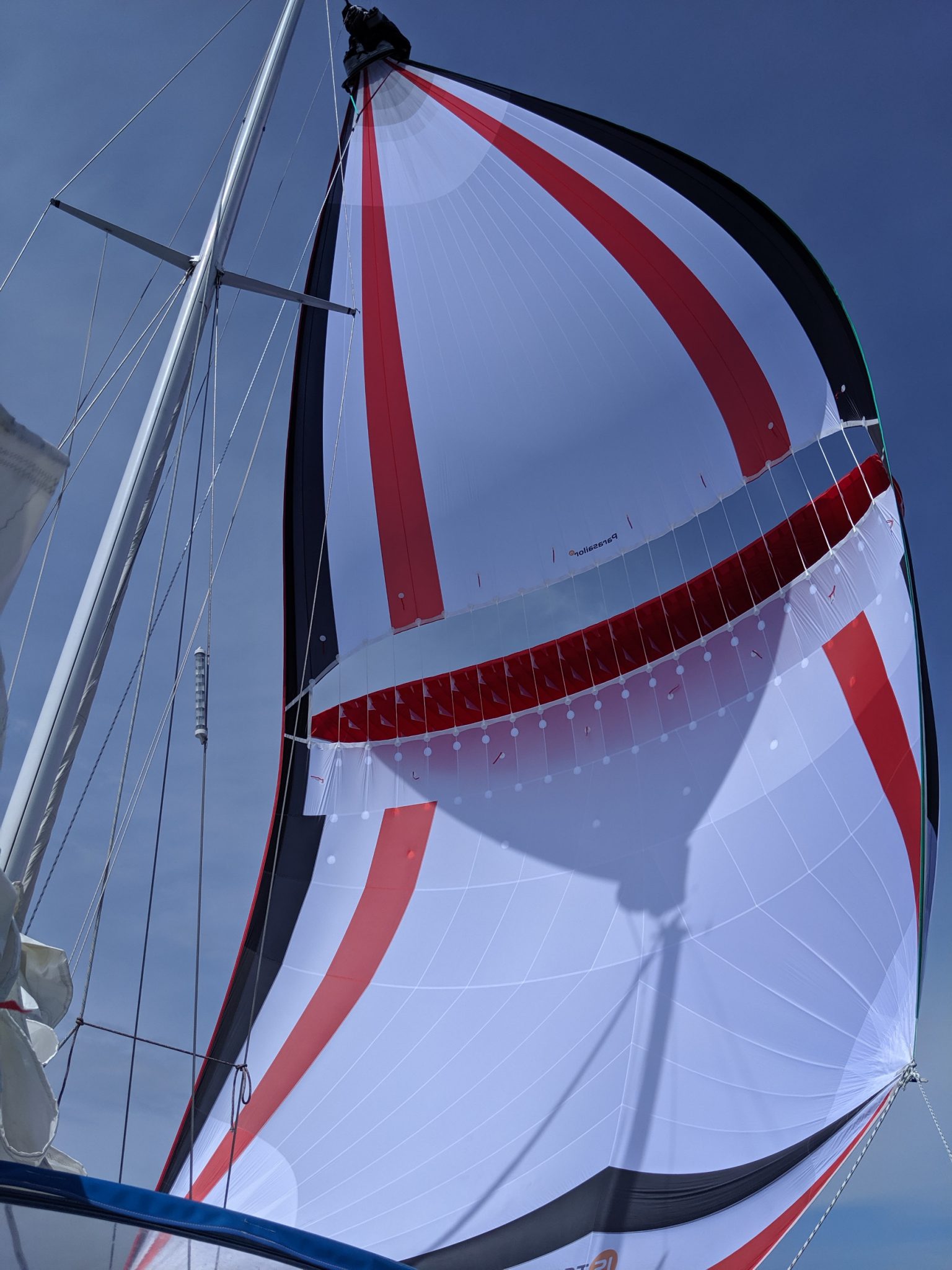 Today we drive at 8-12 kn wind from approx. 120 ° between 5 and 7 kn - I think that's crazy. We set sail at 8:30 a.m. and so far - this text comes out at 7:30 p.m. - we haven't had to pull the lines yet. Sailing is about as boring and exhausting as driving with the diesel engine. Only faster, quieter and there is less CO2.
The price per square meter is enormous, it is € 60. But I think the money is well invested. I am looking forward to being in the Passat with this sail.
Addendum:
When sailing on Loch Ness we were greeted by the crew of the Fairytale photographed.