is currently coming to me. I've had a toothache in a molar since Friday evening, and I'll finally have an appointment at the dentist in three hours. It's going to be a bigger thing, I'm just looking forward to a hole in my stomach. It always starts on a Friday evening.
We are so far through with the boat. We still have a lot of cosmetic repairs to do, but we're no longer doing them in Aruba. We have everything we need for the job on board. If we're in quarantine somewhere again, we'll finish it off. That's why we can take the weekend off as always. On Saturday our friend Dickie picks us up and wants to take us to the natural pool in the national park Conchi. He also has his day off on Saturday. We agree that the time is 2:30 p.m. The park entrance closes at 4 p.m., but we can stay in the park until 8 p.m. That's our plan, then we'll have the pool to ourselves. The normal tourists have long been back in their hotels.
Jens grabs our board bike and cycles to the butcher's shop. There he gets the ingredients for a lot of meatballs, which I then fry in the course of the morning. I've only finished five minutes when my phone beeps to announce an incoming message. It's 1:30 p.m. Dickie informs me that our friend Edward is also with him and that they are about to go to pick us up. We are happy to pack the meatballs ready for travel.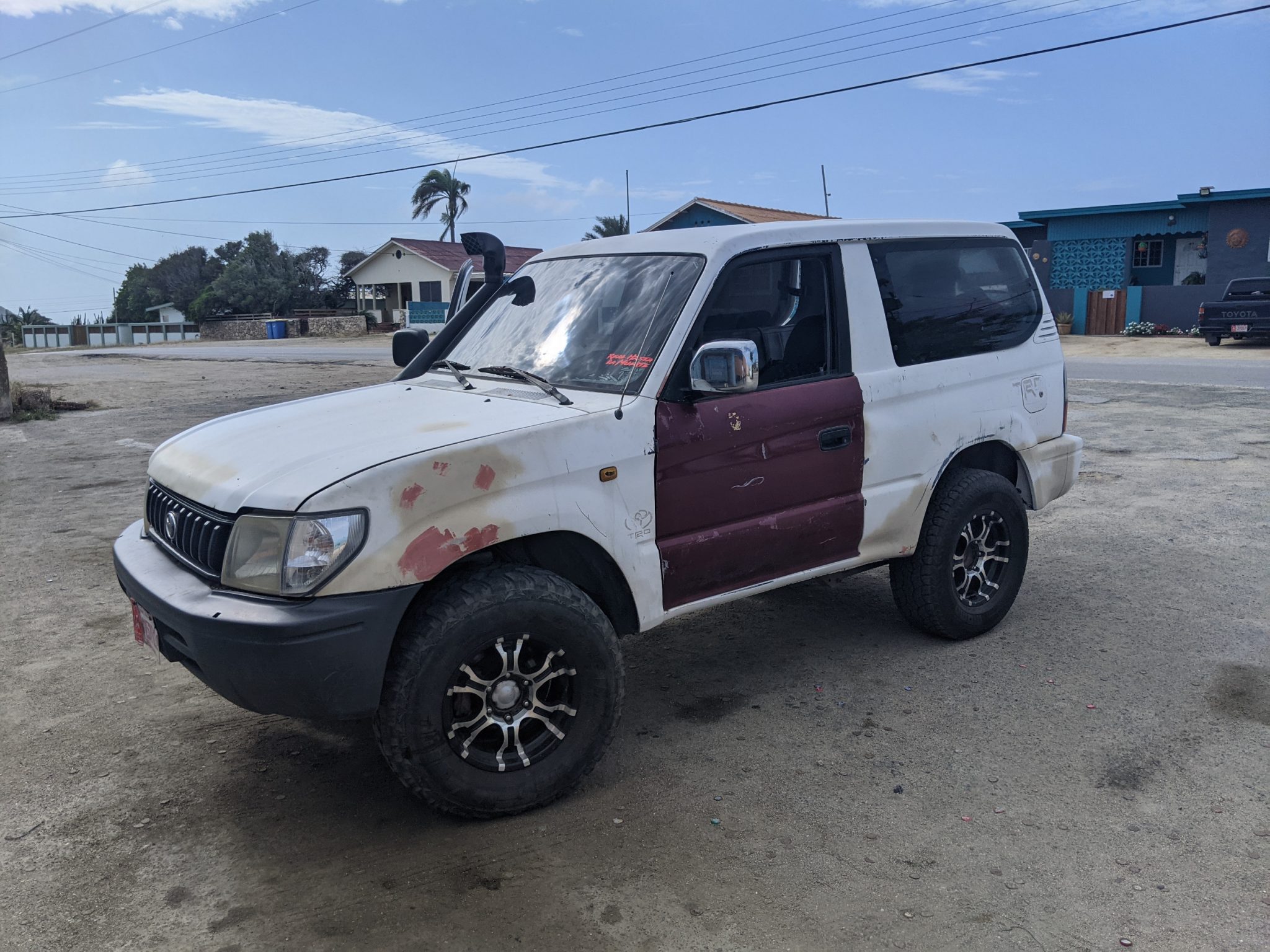 It's 2 p.m. Actually, the two should come right away if they left half an hour ago. But you do not come, instead I receive another message a short time later. They are currently looking for fuel money because the car's tank is practically empty. I offer to help out with fuel money. You want to drive off immediately. At 3 p.m. Dickie and Edward arrive at the boat. They ran out of gas on the way, so they had to beg for a few liters of fuel. The typical Aruban excuse for being late - problems with the car. We're going to refuel. We leave Oranjestad at 3:15 p.m. At 3:45 p.m. we arrive at the park entrance. It closes at 4 p.m., but tickets are only sold until 3:30 p.m. Damn. On the other hand ... at the entrance there is a large sign that the pool is closed due to weather conditions. We decide to go to the other pool.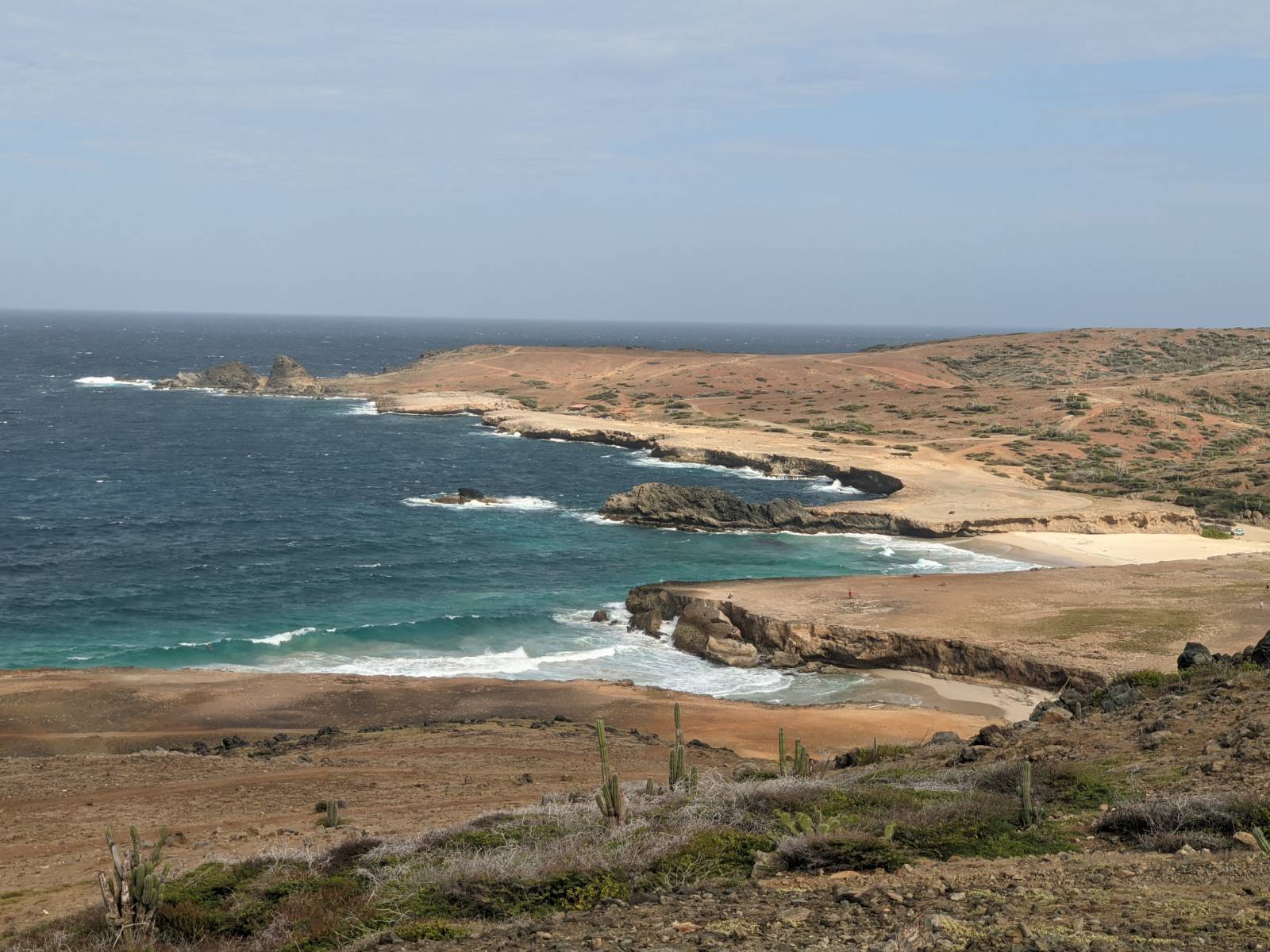 Dickie chauffeurs us down an off-road track. It's a little harder than the slope that goes to Conchi. But there are great views of the landscape. We have a lot of fun.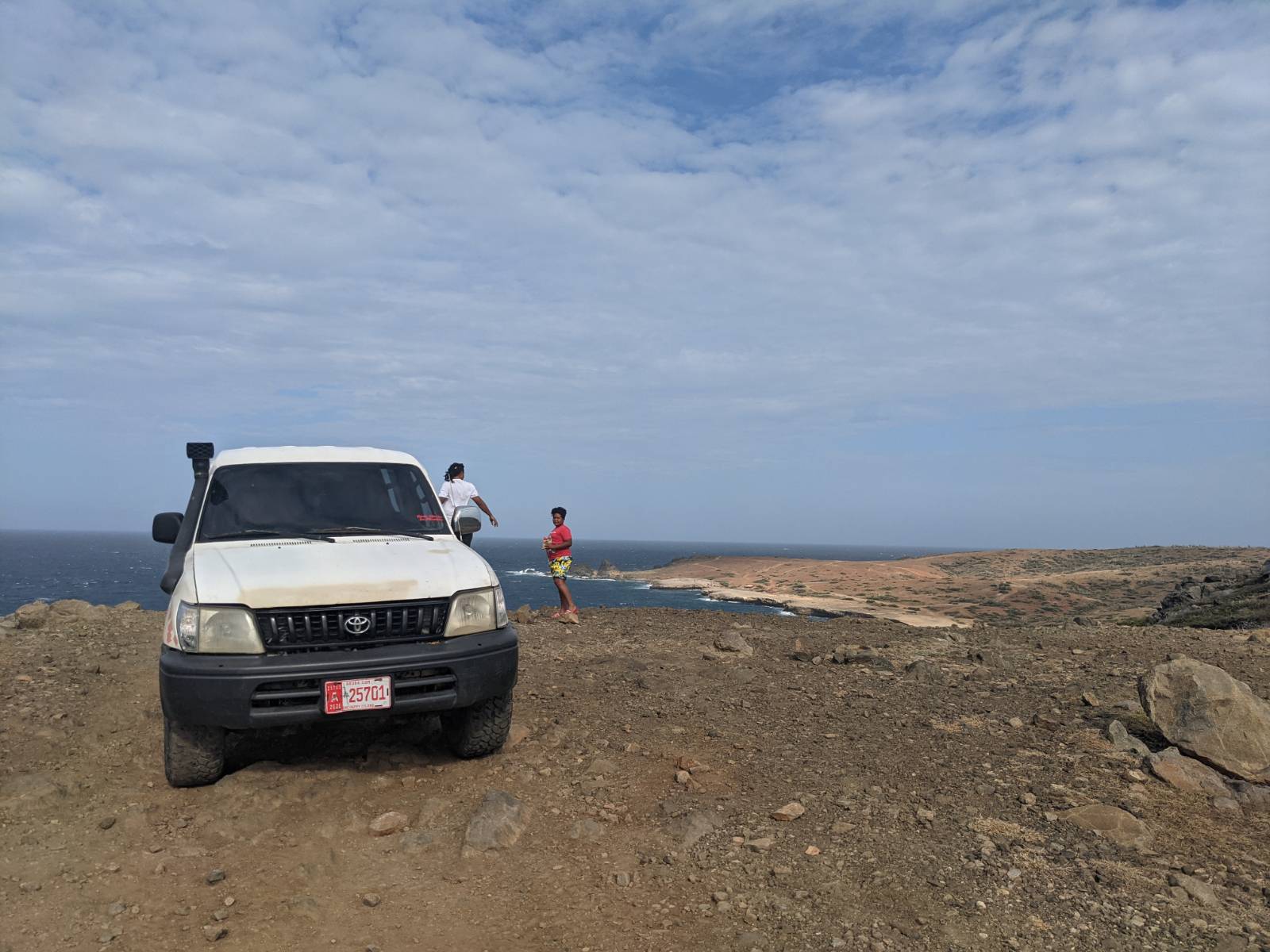 When we arrive at the pool, we are initially afraid that the group of ATVs parked by the ladder has just arrived. Fortunately, the opposite is the case, you are just getting ready to go. We have the pool to ourselves for most of our stay. The surf outside the protective stones is enormous, no wonder Conchi was closed.
Inside, as always, it's nice and relaxing. We drift through the water. Since the tide is low, we can look really far into a small cave and swim. That doesn't work during floods, then you hit your head. A group of three American women with a tour guide arrives, the women jump into the water for a moment, a photo is taken, and five minutes later they are gone again. We have a lot of fun with the screaming women.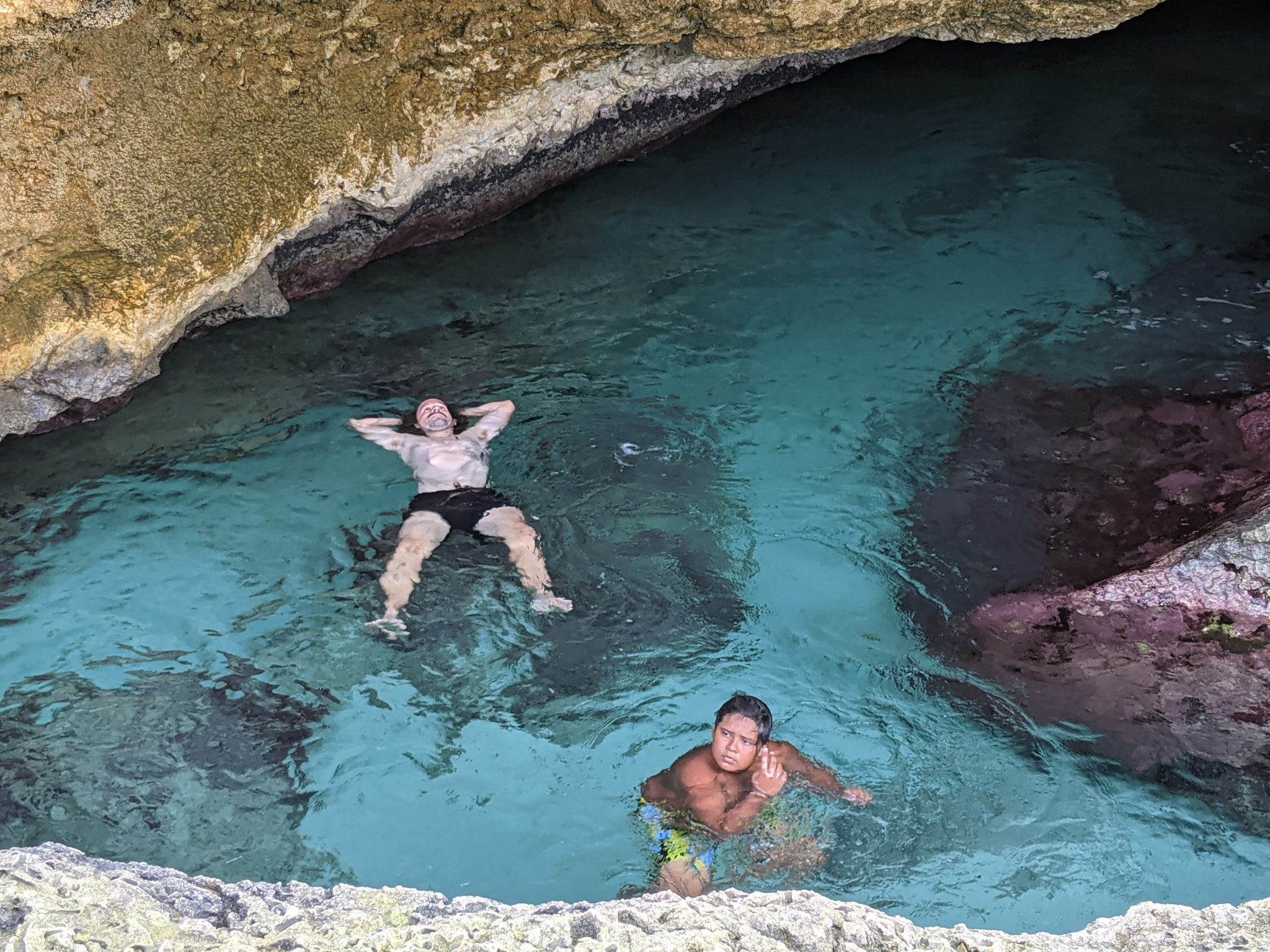 When we lose our appetite for the pool, Dickie wants to go off-road a little more. So we continue north along the whole beach of the east coast of Aruba until we get to California Lighthouse drive back on paved roads. We chug further and further along the beautiful beaches towards Oranjestad. We see on Eagle Beach a wonderful sunset. Then we drive to Sissi's and end the day with a cool, hoppy soft drink. You have to explain exactly to Dickie and Edward about the one (!) Beer. Otherwise the two stay until the refrigerator is empty. It was a beautiful day.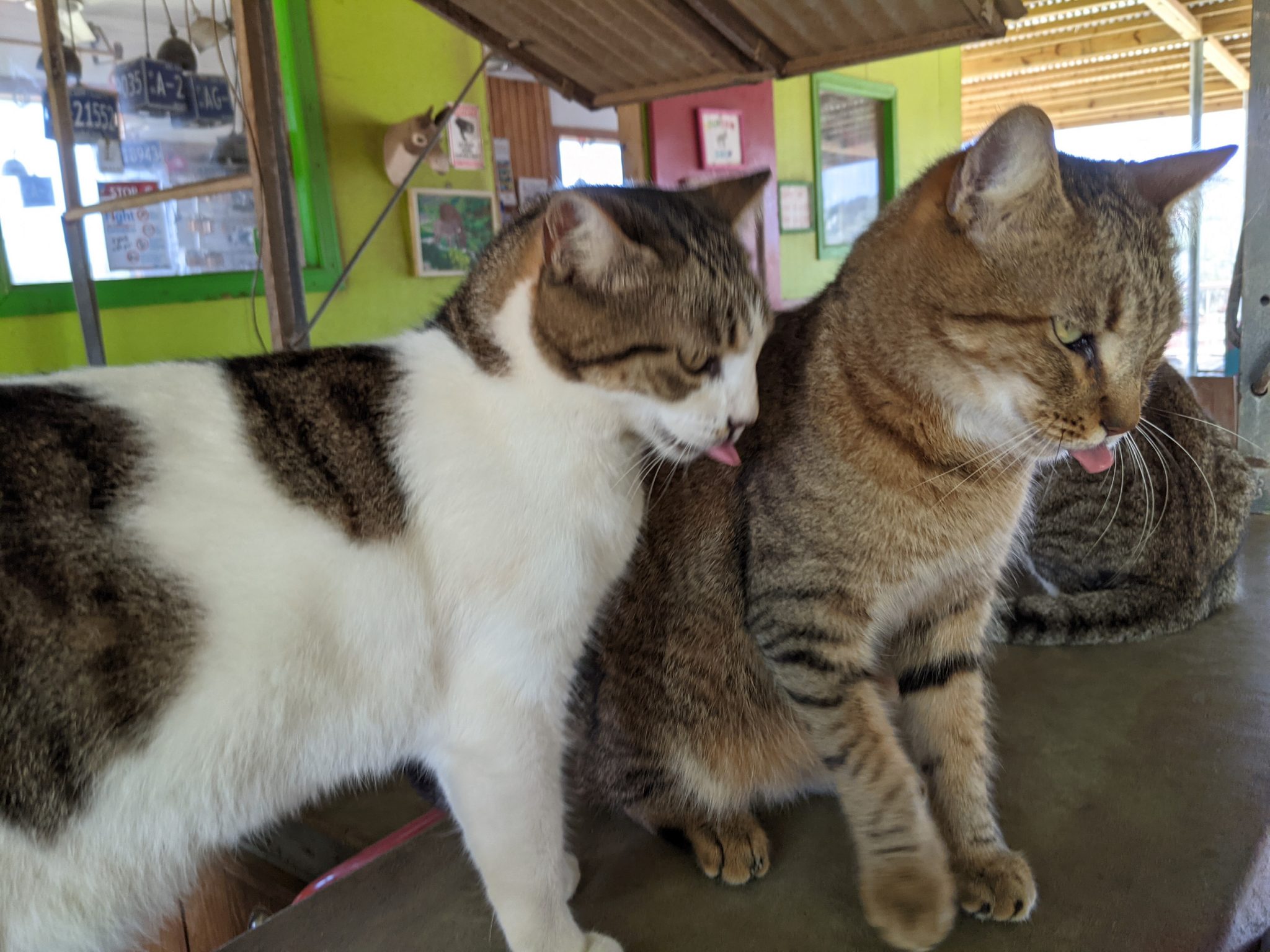 On Sunday I go to the donkeys. I will continue this ritual as long as I am in Aruba. I am delighted to see that the two cats Swa and Socks have finally come down from their roof. It really paid off to transport Sweety to the Netherlands.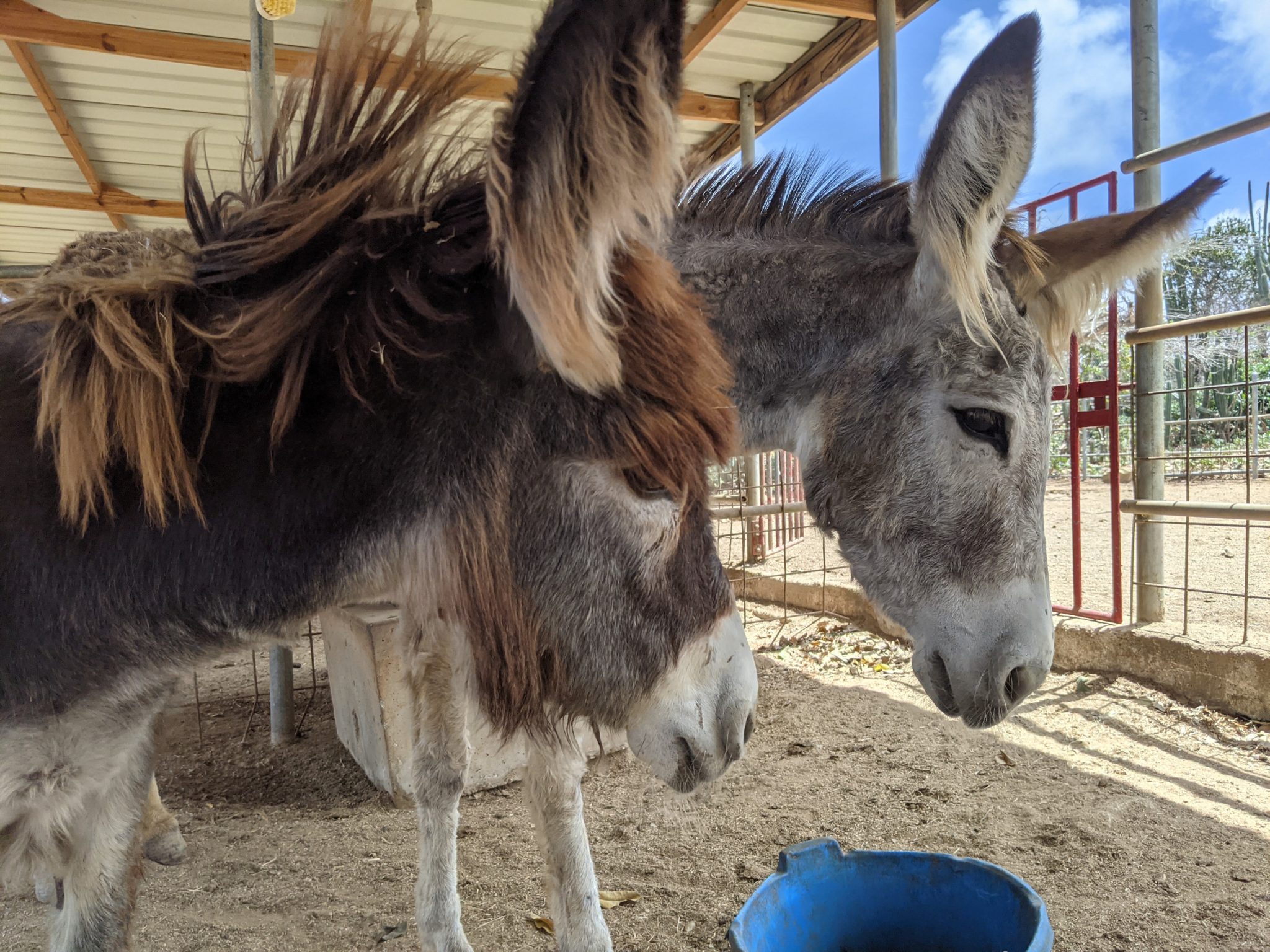 Unfortunately there is sad news about the little tiger. She keeps falling and then cannot get up. It seems like she has a problem with her knees. That's too bad. She was with the old donkeys for weeks now and could run around, jump and play with the oldies. That is over, now she and her mother are locked in a small stable again. Anneke recommended a dentist to me.
Unfortunately, the dentist cannot help me immediately. I have to wait for another patient to cancel an appointment. So I drive to Budget Marine to see if they have suitable LED position lights there. You do not have. On the way back to the bus stop, I kink on the zebra crossing and fall right in front of a car. I drag myself to the side of the road. For the first time in days I can't feel the tooth, the ankle is clearly the loudest. The lady, whose car I was lying in front of, drives me straight to Sissi. Only after a 10 minute drive can I have some conversation, before the foot was too loud. I can't sail like that. Aruba is sticking badly right now.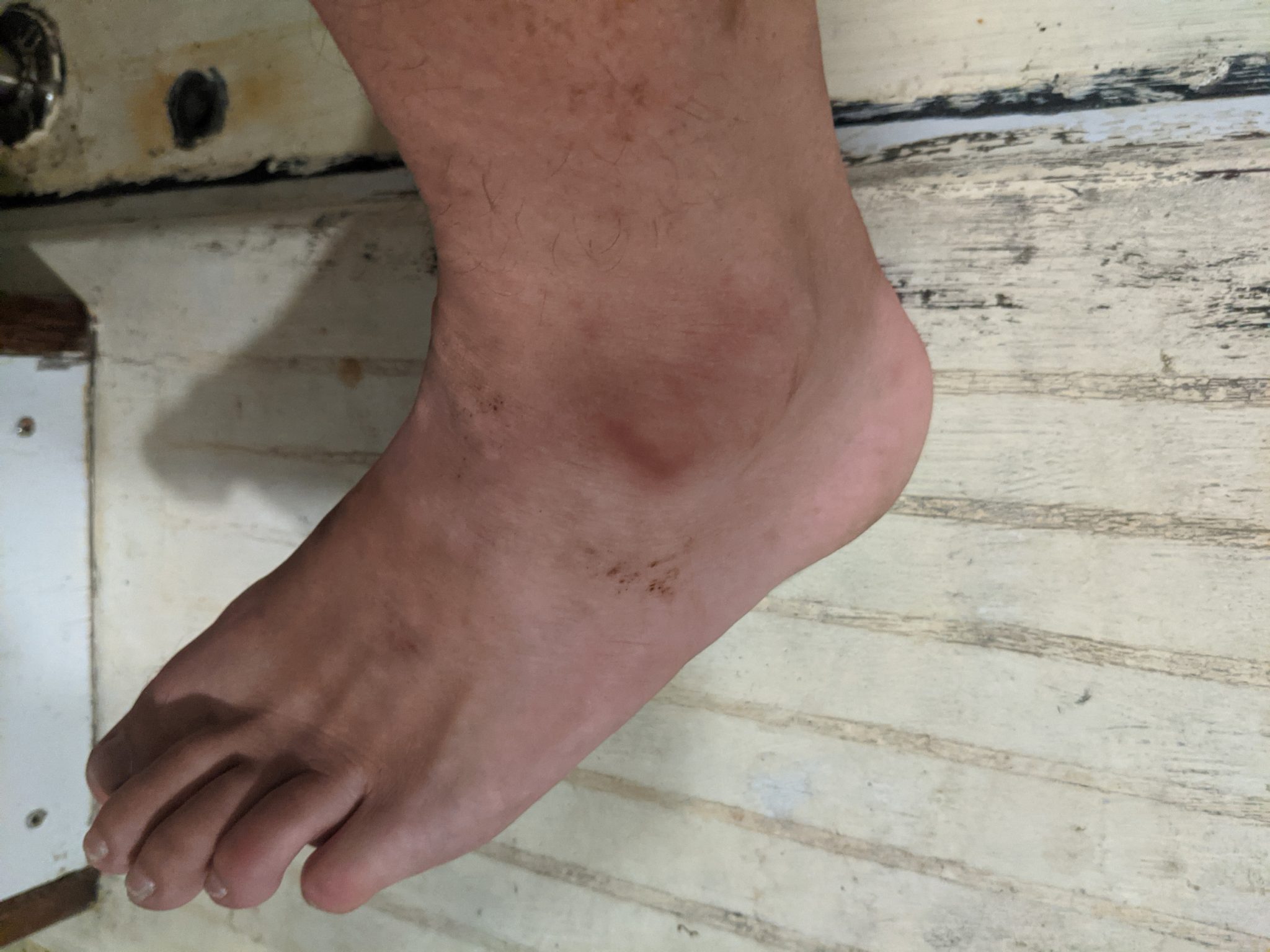 Soraida is really big cinema with her bus. Because I couldn't and didn't want to hobble to the bus stop, she picked me up in the marina and dropped me off right in front of a boat supplier, picked me up again later and drove to Sissi's. I am infinitely grateful to her. I didn't get the position light, but I got a pot of red paint that we want to put on the outside wall. Now there are still two hours until the dentist's appointment.