I've been working at Donkey Sanctuary for a few months now. Of course, I come into contact with many visitors. Many are surprised by my nationality, but then really get going. People always want to know from me whether I've already eaten in a German restaurant. That wasn't the case until last night. The restaurant is located in an area where you can usually find high-priced restaurants. In addition, German cuisine is fairly well represented on board.
Jo, Stewart and Johnny made my way to the restaurant yesterday Bavaria. The only downer: I am the driver. So I'm only allowed to look at the fridges with over 100 different beers.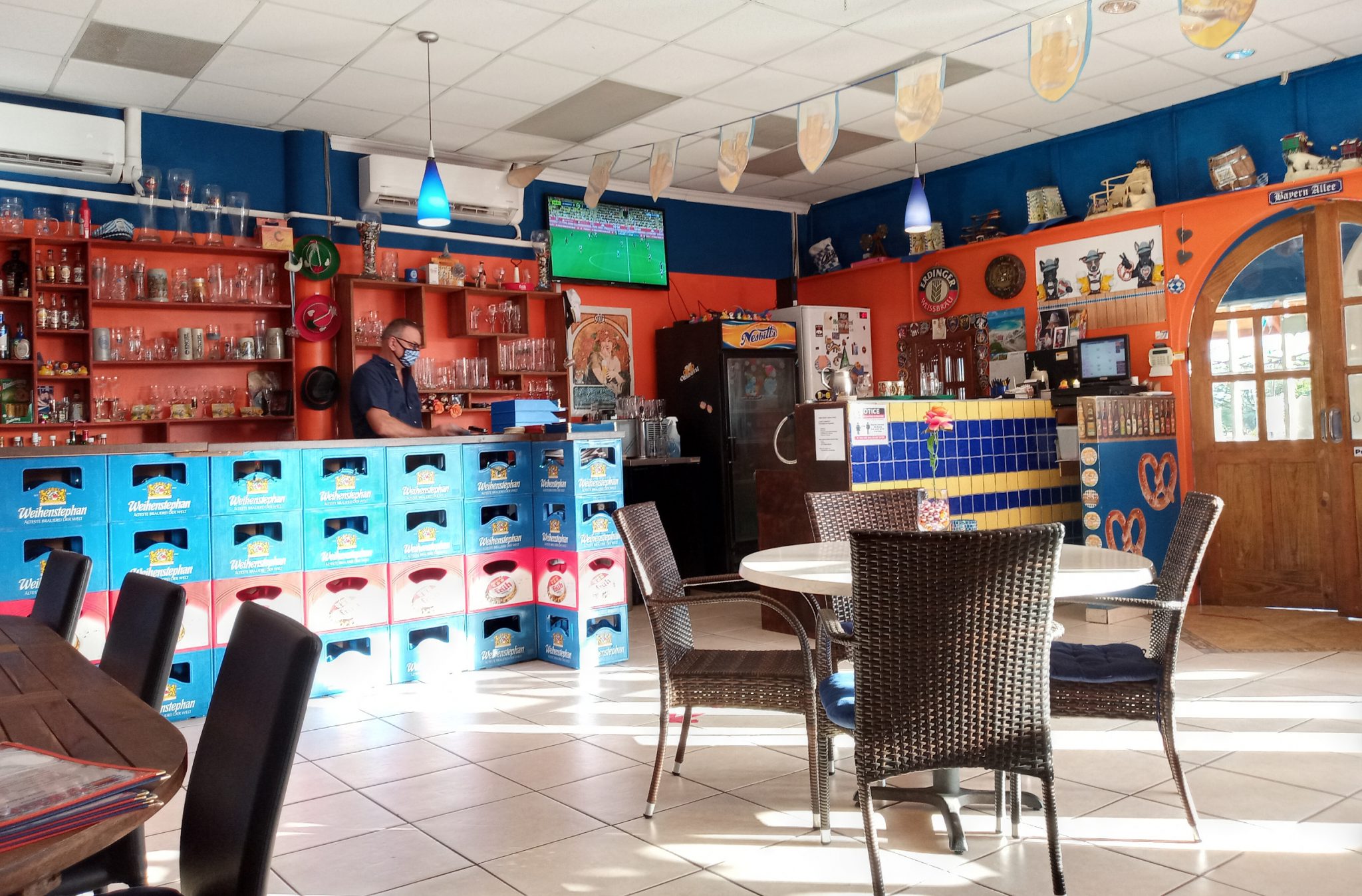 It seems uncomfortable at first glance. The bar, in particular, made of beer crates, makes a sterile impression. This is a result of the anti-Covid measures that are currently banning bar stools at the counter. Folk music comes out of the speakers and it hurts my ear canals. Peter from Siegen, who opened this restaurant ten years ago, explains to me with a heavy Dutch accent during his pronunciation that it is Radio Heimatmelody acts, an internet radio station from Bavaria. Every reader is asked to listen for more than a quarter of an hour.
My idea, another internet radio station from Bavaria, Rock antennato switch on was acknowledged with a smile behind the white-blue mask. His guests would expect this music. In any case, the three Americans at the table didn't look disturbed.
The menu is pretty good and represents southern Germany, from the Black Forest to the Austrian border. I can't complain about the preparation and the taste, my not so southern German sauerbraten was very tasty. Only the red cabbage wasn't my cup of tea - I was warned though. Peter explained to me that this is not traditional, it has to be sweet. OK. Stewart was more than enthusiastic about his pork knuckle. Jo had half of her goulash wrapped up, she was completely overwhelmed by the portion size. Johnny also had to have food packed up. In terms of portion size, it's really typically German here. My conclusion: I'll come back when I feel like a pork knuckle.
---
When it comes to Covid-19, the island is not really calm. Almost three weeks ago I wrote that the number of active cases had risen to almost 300. Mind you, we started from scratch. Today we have 1165 active cases out of a total of 1670. The first wave caused just 102 infections. On average, the number increases by around 60 cases every day.
The tourists who tested positive are only involved to a small extent; most of the infections occur locally. This is unfortunate, locals are more dangerous than tourists. Most tourists don't stay here for more than a week. They can be positive, tested negative at the airport and may not develop the symptoms until after the return flight.
The government's actions are kind of half-hearted. The bars are closed, but not all. The casinos are open. Private parties are forbidden, but tourists can gather in the hotel complex as they please. Now, as a new measure, there is a well-known measure - the curfew. It will apply from midnight to five in the morning from tomorrow so that the virus can no longer transmit locally during the night. I think it's ineffective activism that I don't care to a certain extent because I sleep during this time anyway. Good night to you!