Many restaurants line the marina in Lagos, and everything is geared towards the needs of the British. You can get bar meals like the ones in the UK. There is a Chinese, an Indian and Pizza Hut. The Algarve is a popular holiday area for the British and this is fully reflected in the culinary offerings. That's how Jens and I went to eat in one of the restaurants - there was a Chicken Tikka burger on the menu. This is rather something for the island, which still belongs to the EU - I can't help but tip, after all, today is November 1st.
The Marina Bar has opted out among the bars. I noticed this sign the first time we stayed in Lagos, I didn't take a photo at the time. Now, on our second stay, I couldn't resist temptation. We got a berth in the far corner of the harbor and walk past this sign every time on the way to the shower: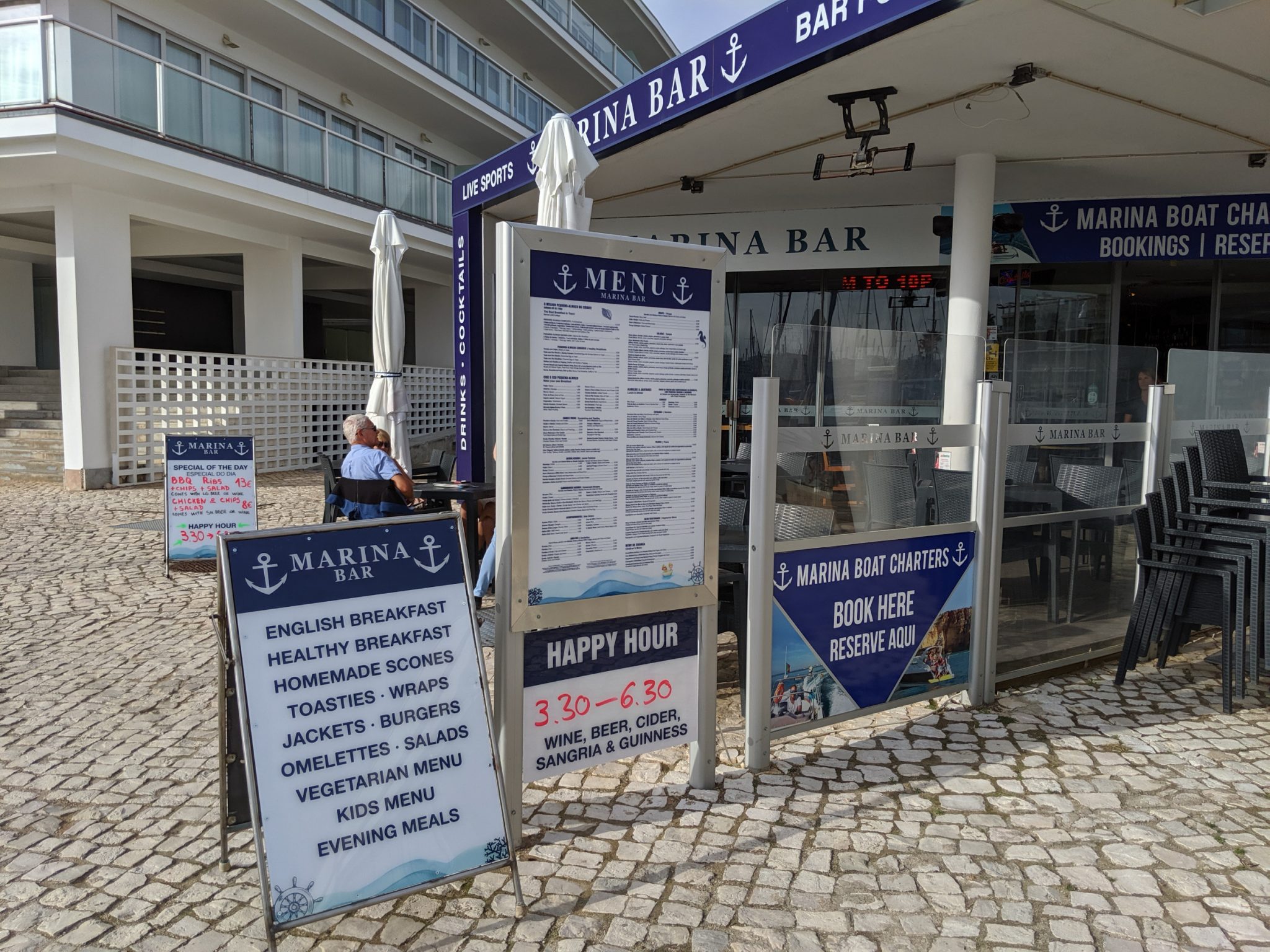 Otherwise we ended an unpleasant time on the Sissi. We had been out of insurance since the beginning of July. Of course, that's pretty shit because you can easily do a lot of damage with sailboats. Once maneuvered incorrectly in the harbor and damage worth millions can be done. Unfortunately, we did not find an insurer all the time who wanted to insure our old lady for worldwide travel. We did not want to have a certificate that only applies to the Canary Islands.
David von der Cosa was arrested with a sealed oar in Spain for a few days because he could not provide the insurance required by law. We were lucky and somehow struggled with the expired documents. Fortunately, this state has now ended. The insurance broker Martin von der Fairytale called us was able to get us the coveted policy. Now we can safely go to the Canary Islands and I can finally dare to let Jens do the harbor maneuvers. Phew!
We are still waiting for a package from Germany that has now made it to Lisbon. I had already written a few lines on the subject of "DHL".
At the weekend, a weather window for the crossing will open that seems to last for over a week. We are happy and hope that our package will arrive here in time. It is unclear to me whether parcels will be delivered here on November 1 (All Saints 'Day) or on November 2 (All Souls' Day). These are both public holidays in Portugal. Even if the package arrives here on Monday, we can still use the weather window, which is nice. And there is still enough work on the ship, you never run out of work on a sailboat. No way. That's for sure.