We shouldn't have looked at the statistics about using our blog. What did we think? So someone cuts off the dreadlocks in Vigo and the video of it goes viral? We have no idea of self-marketing in the harsh realms of the Internet.
In any case, in Inverness we met an expert for clicks on the Internet. Then we sailed around in different areas for months and now we have seen this expert again in Leixoes. Karma.
Karma from SY Fairytale visited us and allowed her staff (Lena and Martin) to grill with us. During her visit, we were allowed to take some pictures of her.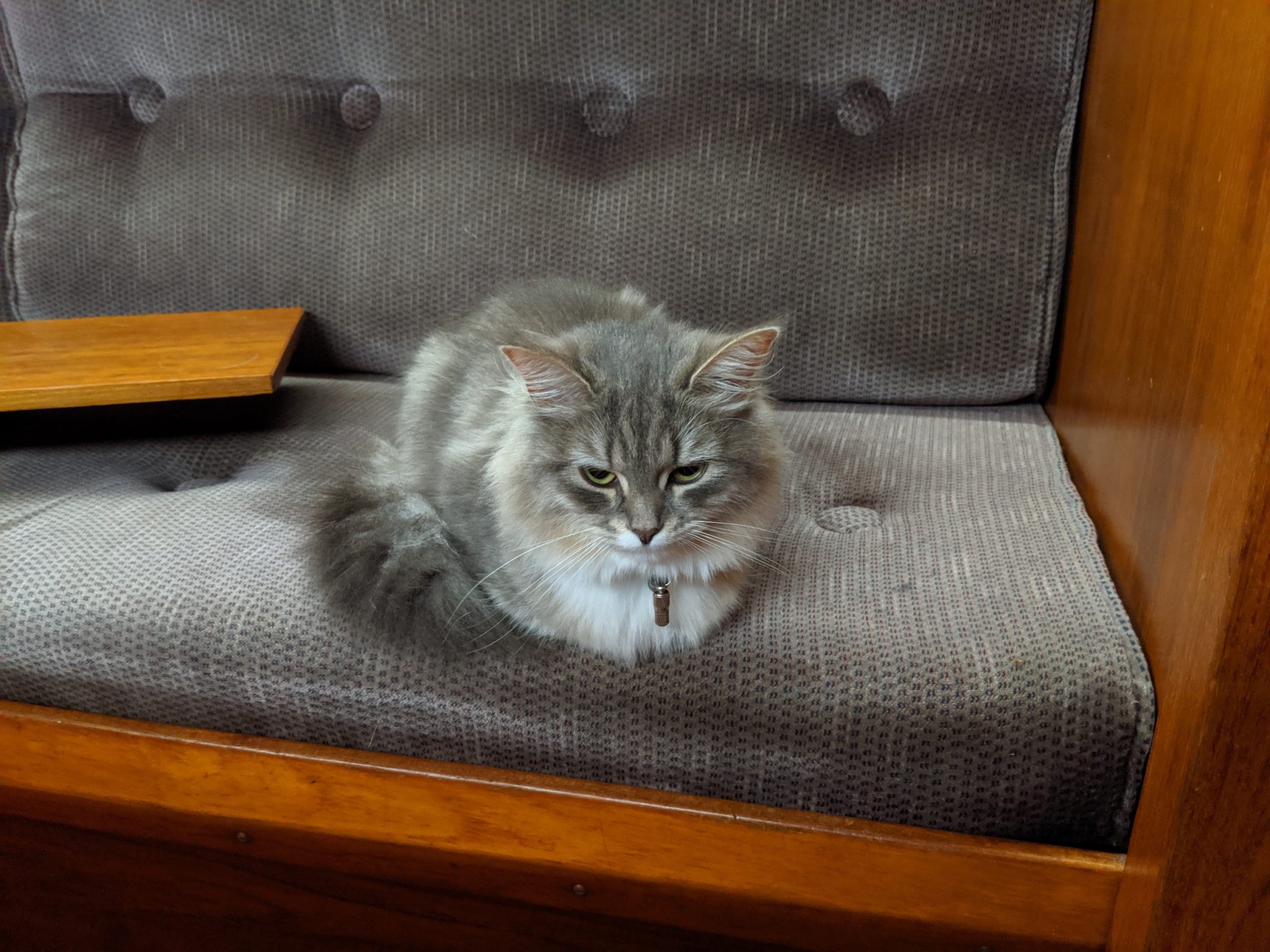 Karma is incredibly plush and soft. She's so cute. And she allowed us to use this picture of her in our blog. Since the internet belongs to the cute kittens, we will soon have to invest in new servers.
Karma is also generous. While she gave us tips for better self-portrayal (more cat pictures) of our blog on the Internet, she allowed Martin to draw all of the magic potion out of the cider barrel for us. And she just wanted to drink a few sips of the onboard water. Even the generous range of cheeses from me selflessly turned them down.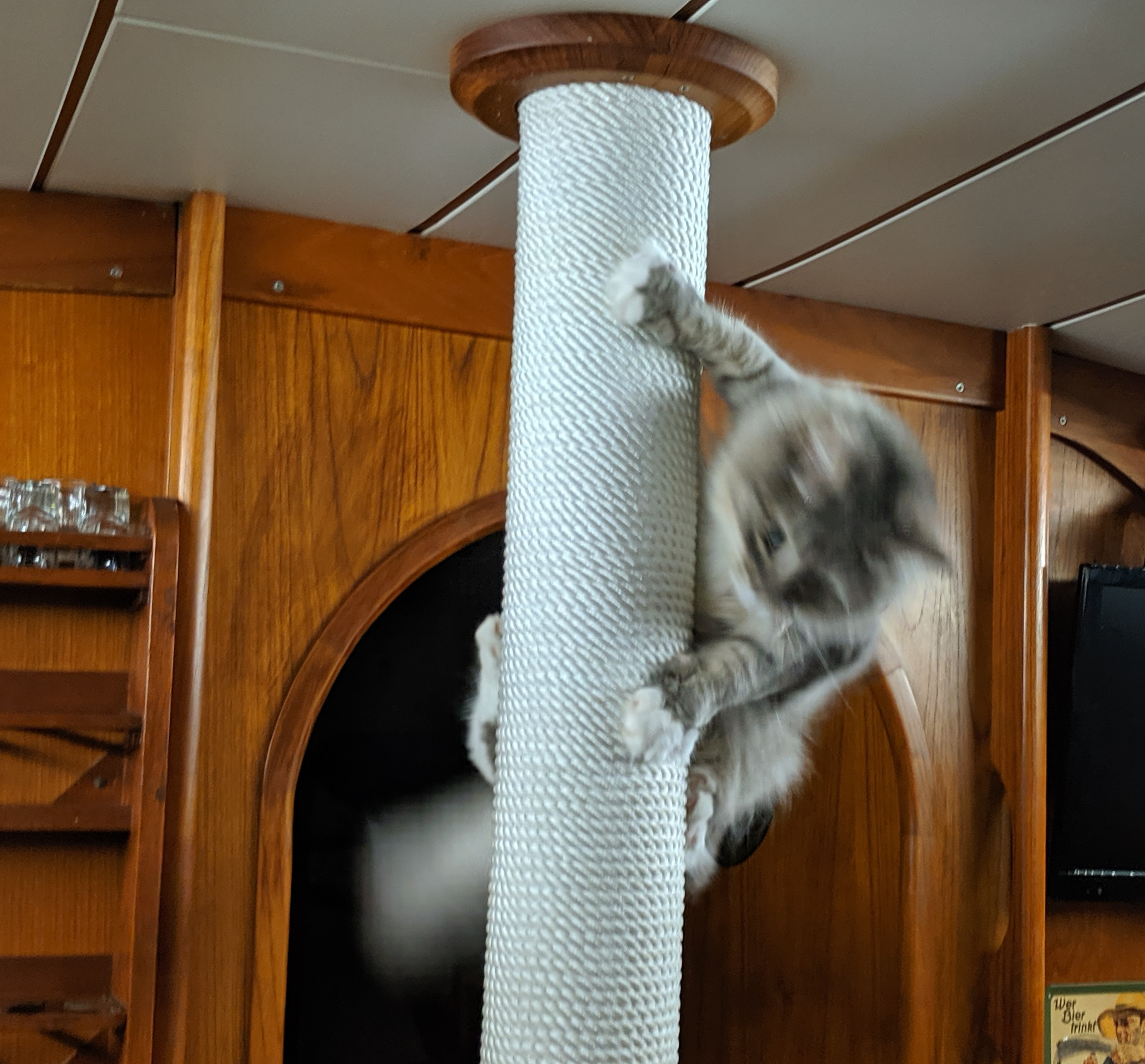 Karma has kindly agreed to check our mast support for stability.
Now that about 100% of the visitors made jokes about our mast support and called it a cat tree, we now had a visitor who didn't crack jokes, but instead examined the suitability of the so-called cat tree in an unbureaucratic manner. From now on, every visitor can call the mast support "scratching post", now it is a scratching post.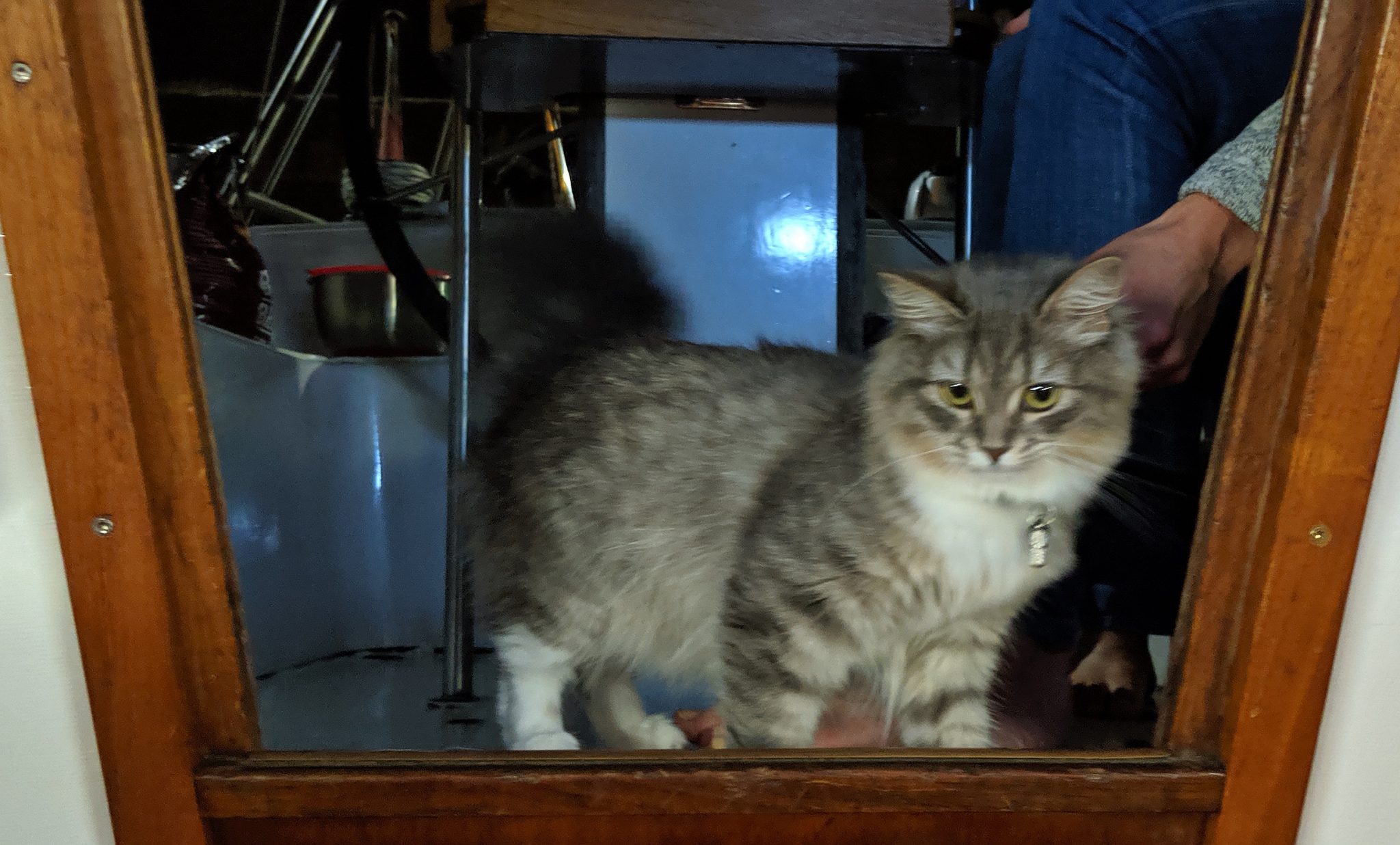 What Karma didn't really understand was the enthusiasm of the can opener when she was doing gymnastics on the mast support. She then left the salon in the direction of the cockpit and initially stopped consulting. We thought at first.
Then we quickly realized what she wanted to show us. She suddenly asked for treats from her can opener Lena.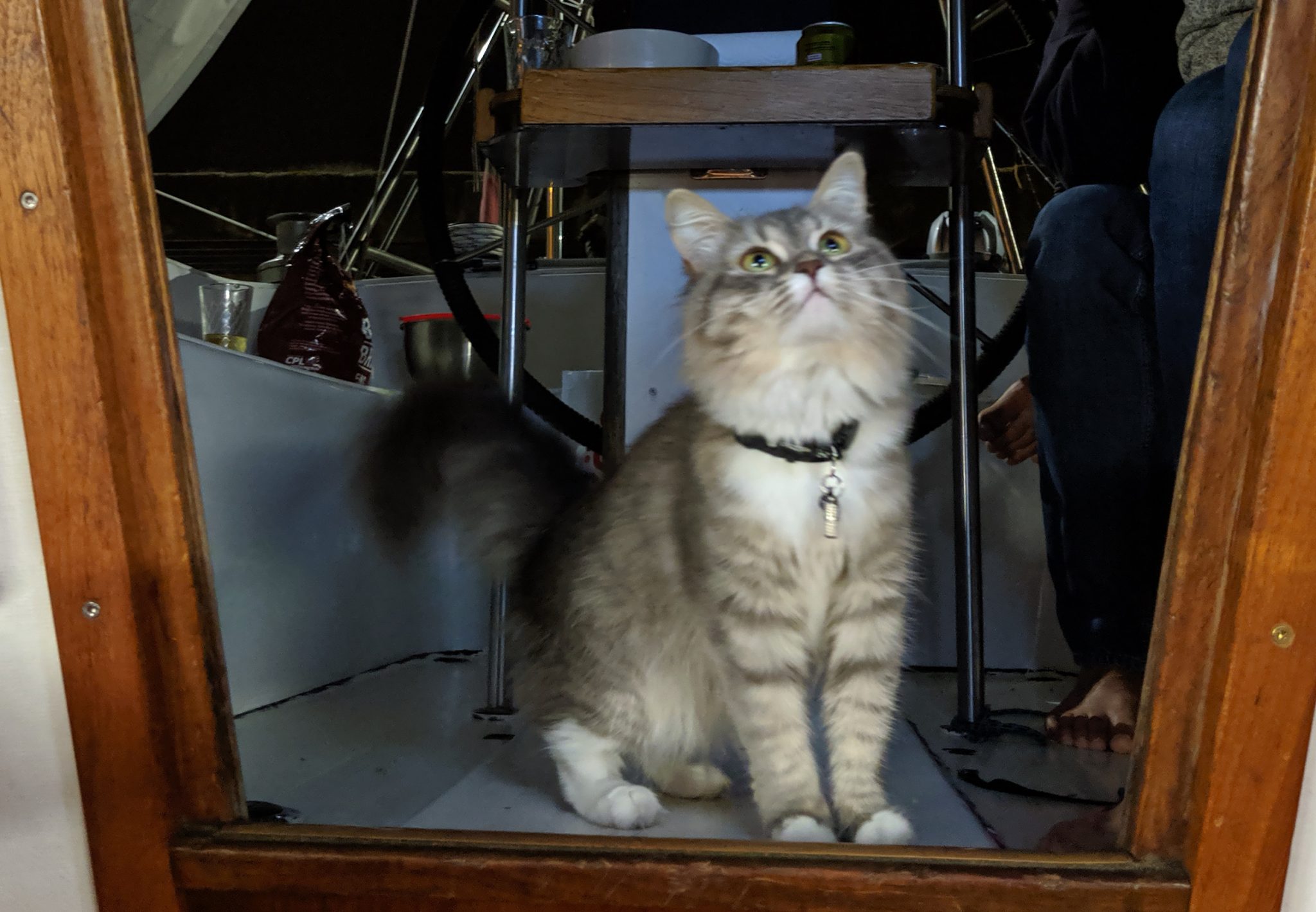 At first we admired her patience when Lena didn't do it right and Karma had to wait for her snack. She explained the correct handling with a few gestures of her plush tail. Then we saw the grace and beauty in the posture of the cat and we realized that this would be another 200,000 clicks on the cute cat. The cats rule the Internet.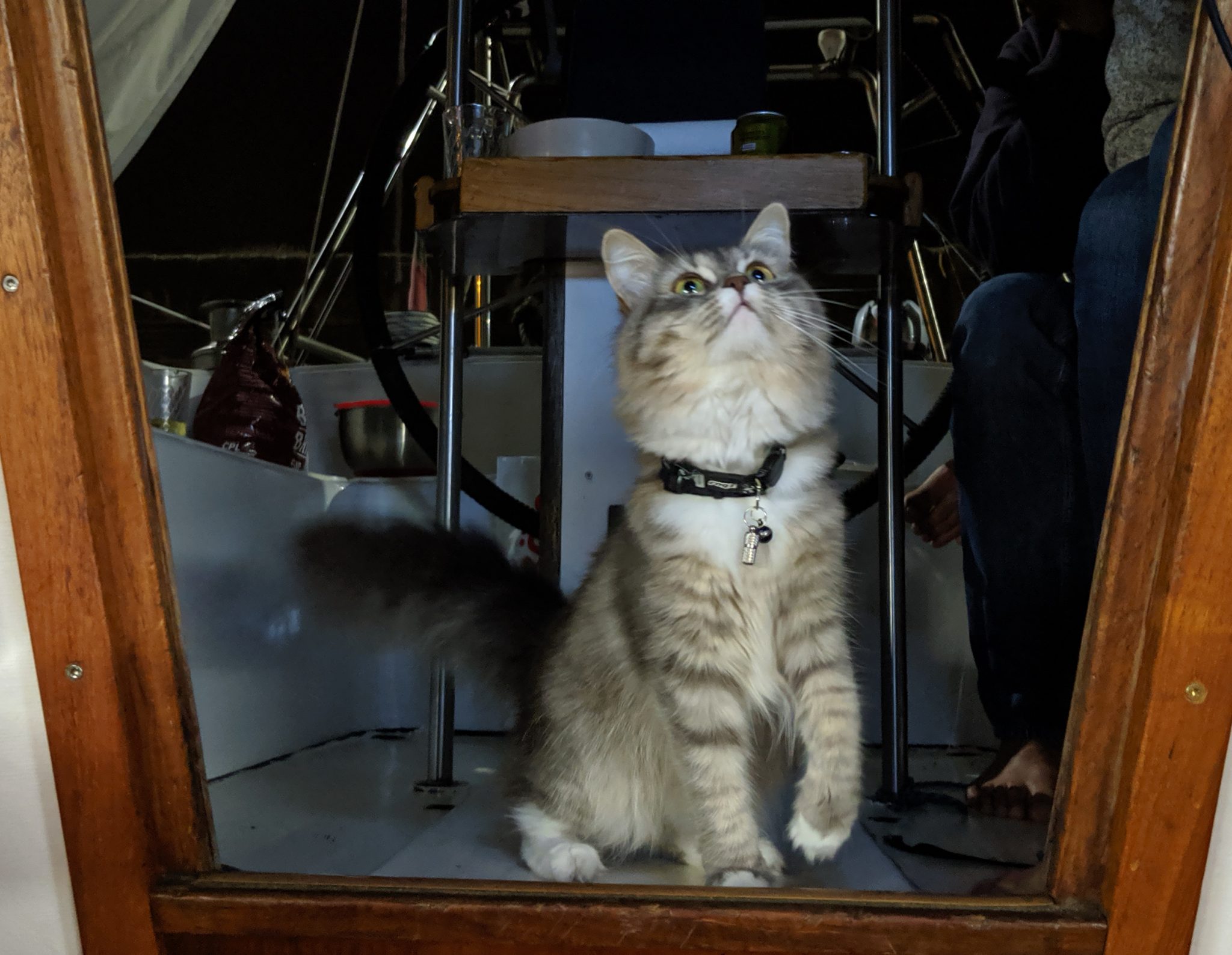 We hope to see this dear, plush, sweet, cute, soft, cuddly, fluffy, tiny, pretty, proud, graceful, graceful, four-legged fur wearer again in Portugal before we part ways in the Algarve at the latest. But we also hope that Karma has finally shed its winter fur. It is amazing where you suddenly find cat hair - even in rooms that the cat has never entered. Cats can do that!
Hopefully the web server won't break down. Otherwise we can no longer upload new cat pictures. Karma.
Thank you for the visit and for bringing Lena and Martin with you.