With a few days late I am writing this post for the first Advent. It was the day before yesterday. Even in Germany I find the Christmas mood pretty stupid, here it looks even more bizarre. At 28 ° C on the first Advent. We feel good even without Christmas.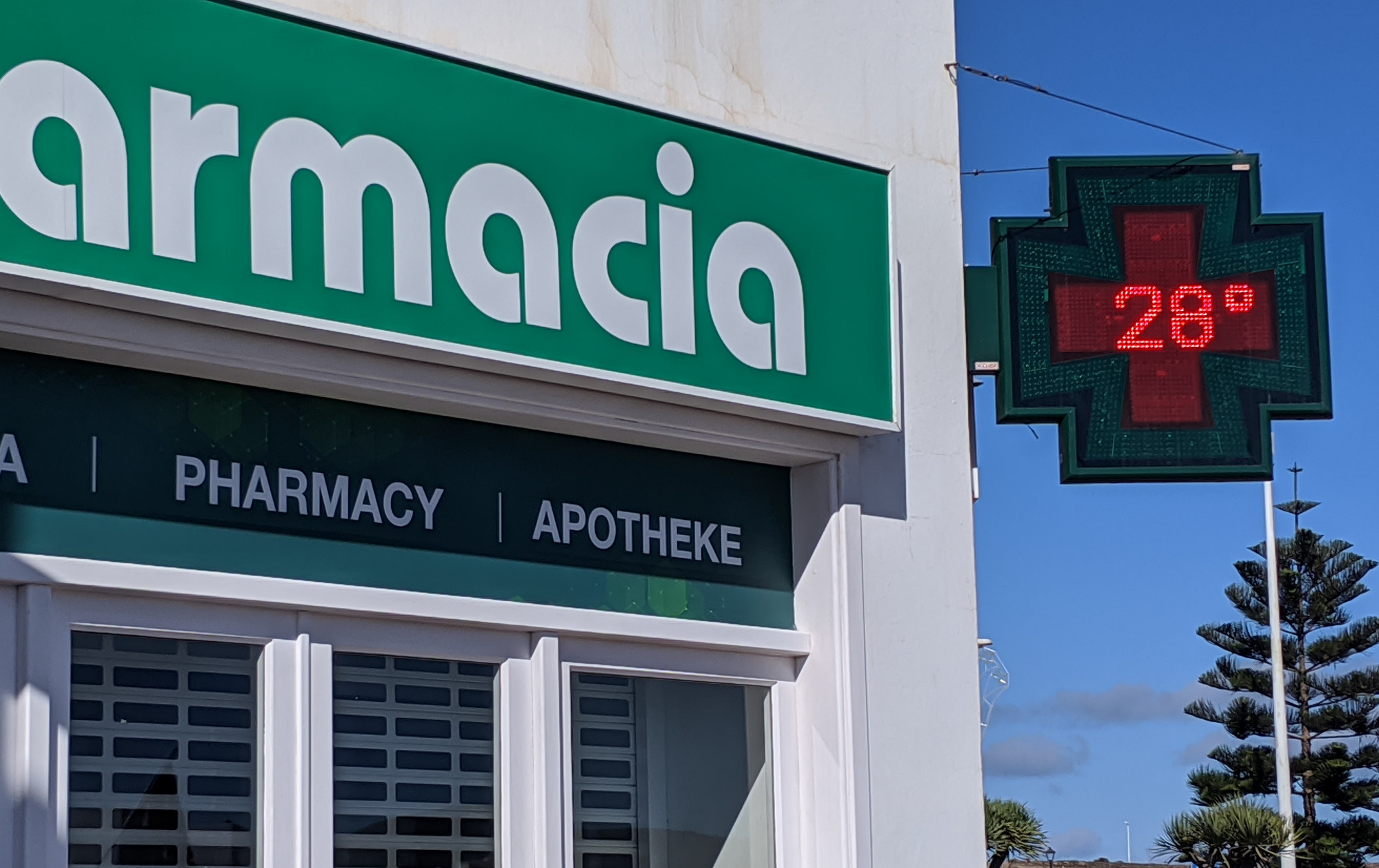 To celebrate the day properly, we decided to join the Chapos in Tapas Bar Yaiza to visit, which Jens and I discovered before our flight to Frankfurt. The visit was still pending.
We walked comfortably to the central bus stop in Playa Blanca and only petted a few cats on the way to the bus. If we had stroked them all, we would not have been there on time for the departure. Then it was only a 15 minute bus ride and we stood in front of the tapas bar.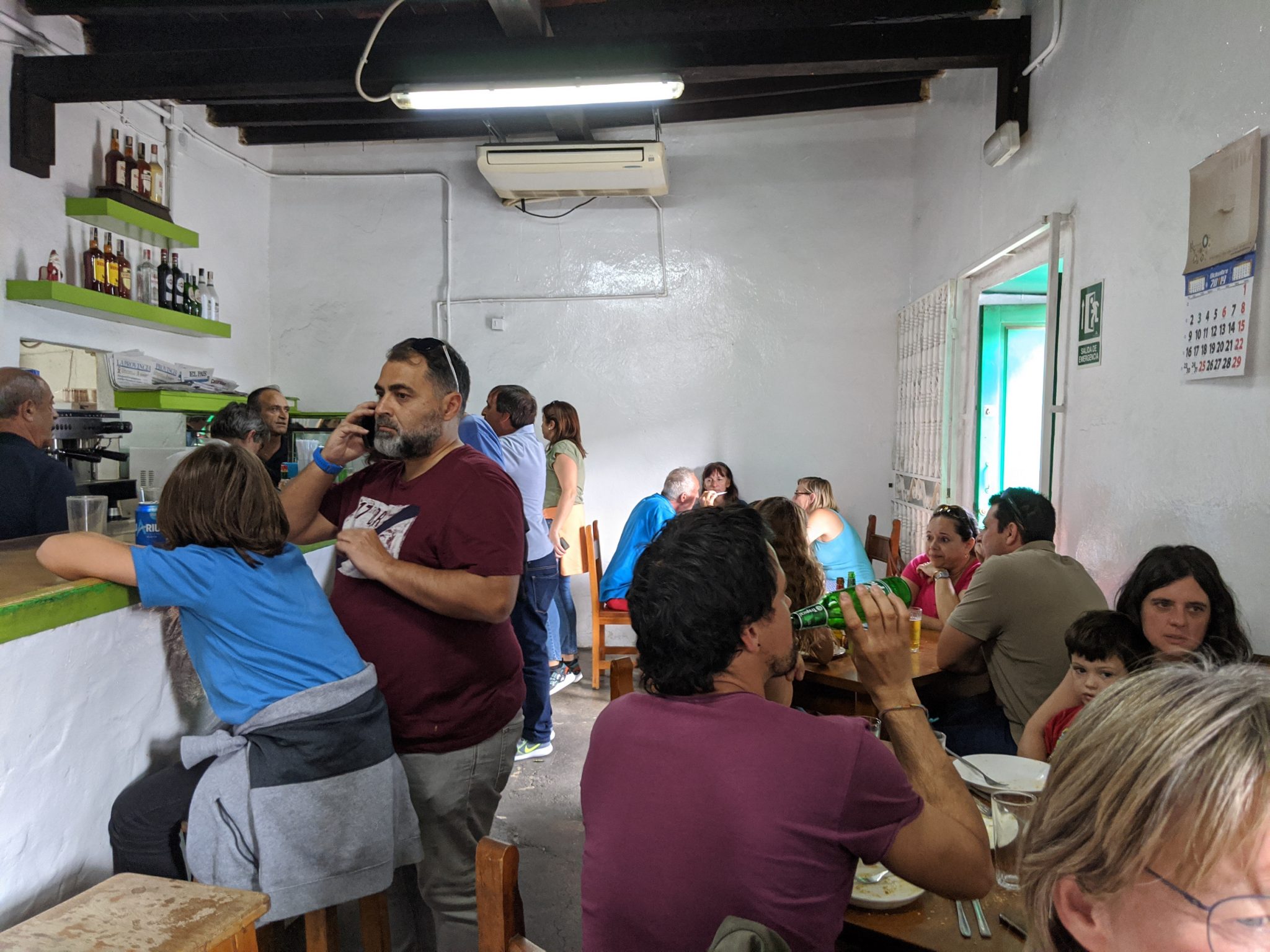 In the beginning we didn't get a table, the restaurant was so full. We were not disappointed in any way. Inside there were no fat British or Germans, but almost only locals who enjoyed Sunday lunch with their families. We were able to seamlessly take over the table from an Italian couple and then finally proceed to order food. It was urgent, our stomachs growled louder than a hungry pit bull. There is no menu.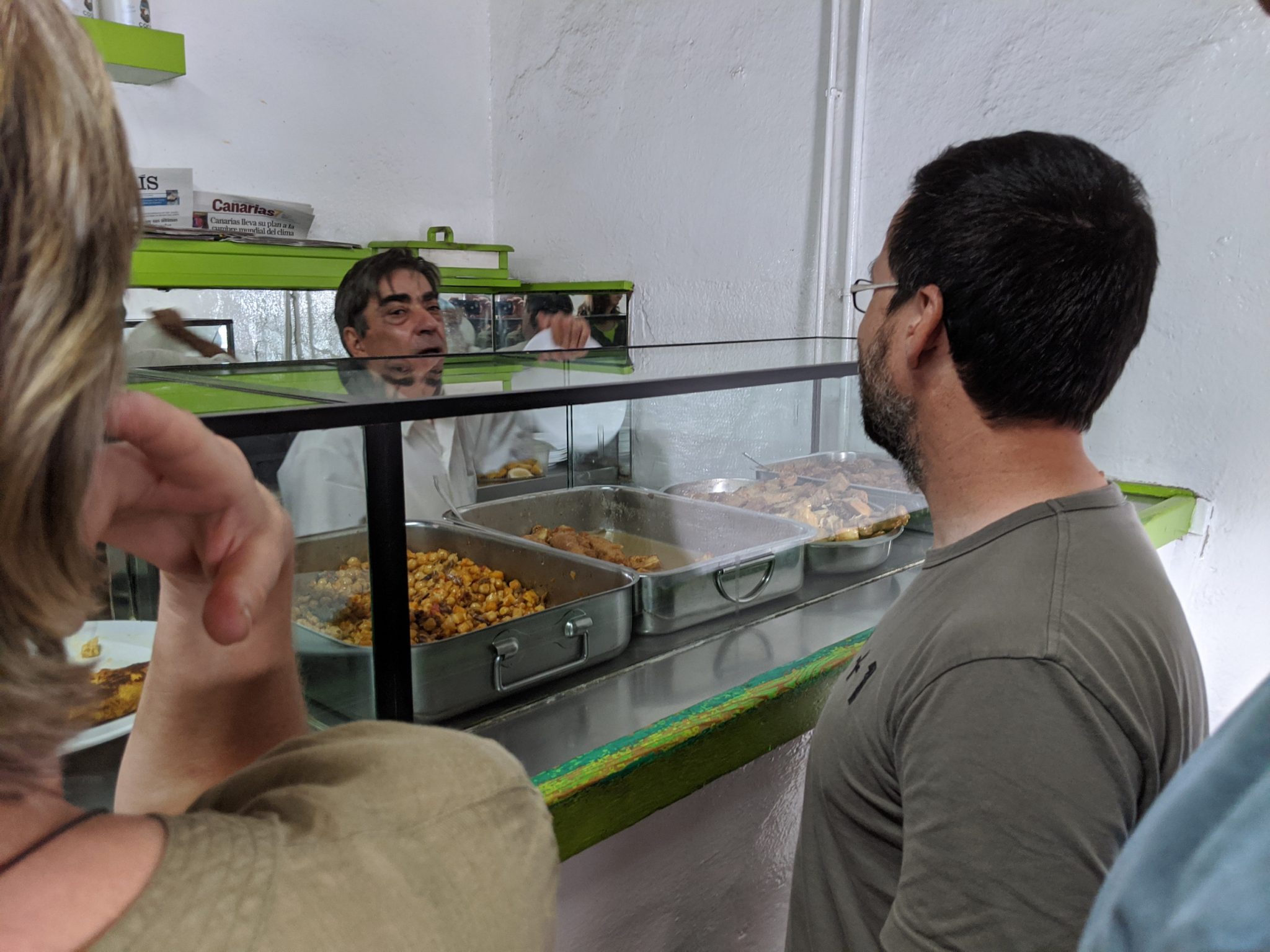 The simple dishes are all pre-cooked and are waiting for the hungry guests. You step on the counter and choose what you want to eat. As foreign guests, we were courted by the landlord, who also properly loaded our plates. These then went into the microwave and lunch is ready. At the other tables it smelled seductively.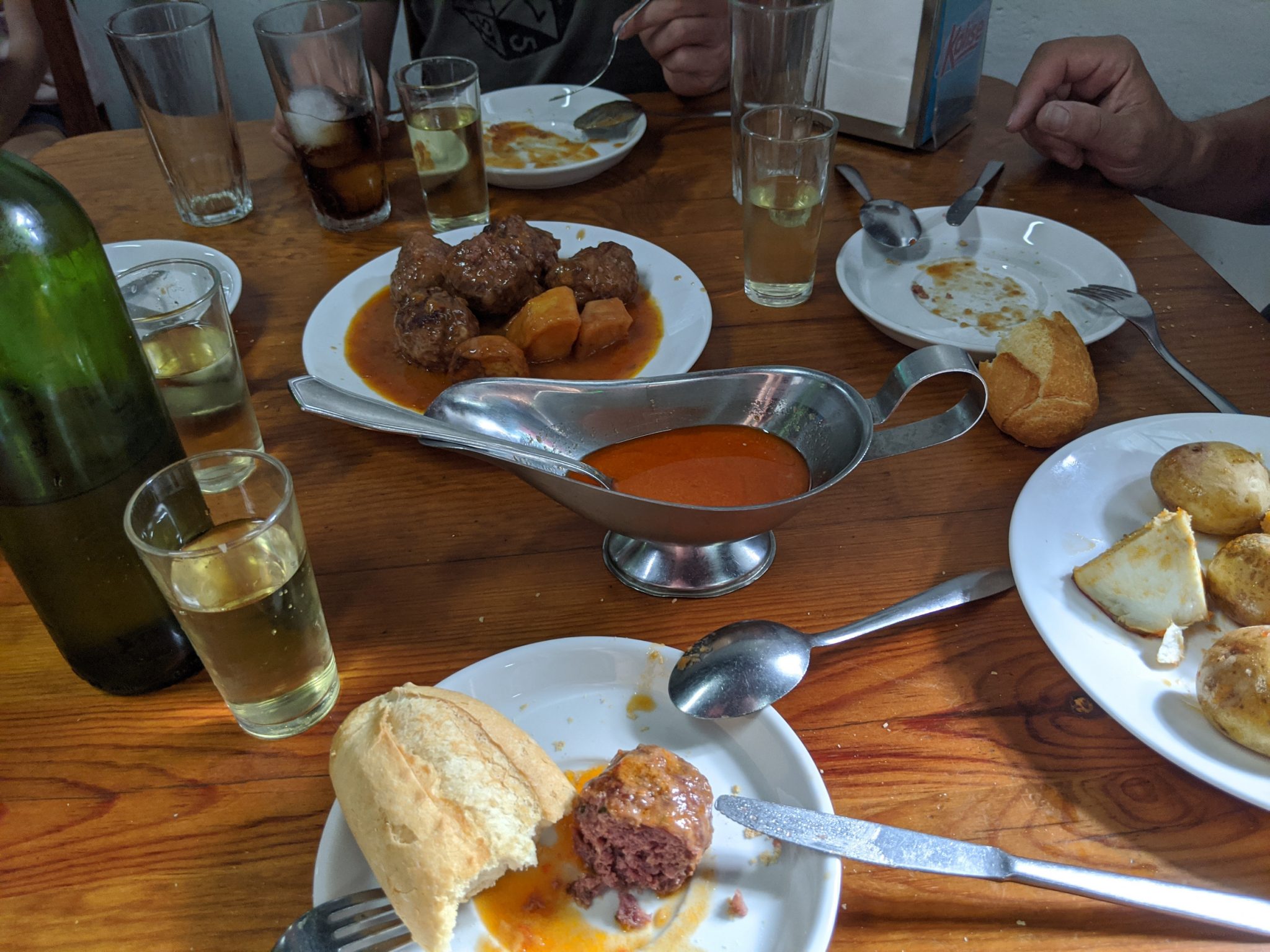 The microwave is small, the hunger was great. So we already had the first plate almost empty when the landlord brought us the second plate to the table. As table wine we had a white wine from Lanzarote without a label. It was the best wine we have ever had on this island. There were also meatballs, fish, pasta, vegetables, chickpeas, potatoes, (...).
I'm not the type of person who photographs his food - unless it's ribs with cabbage. But I couldn't help myself in this bar. Everything is kept very simple and all dishes are extremely delicious. Jens and I decided that we have to go there again. I also want to talk the host off two or three of these wine bottles.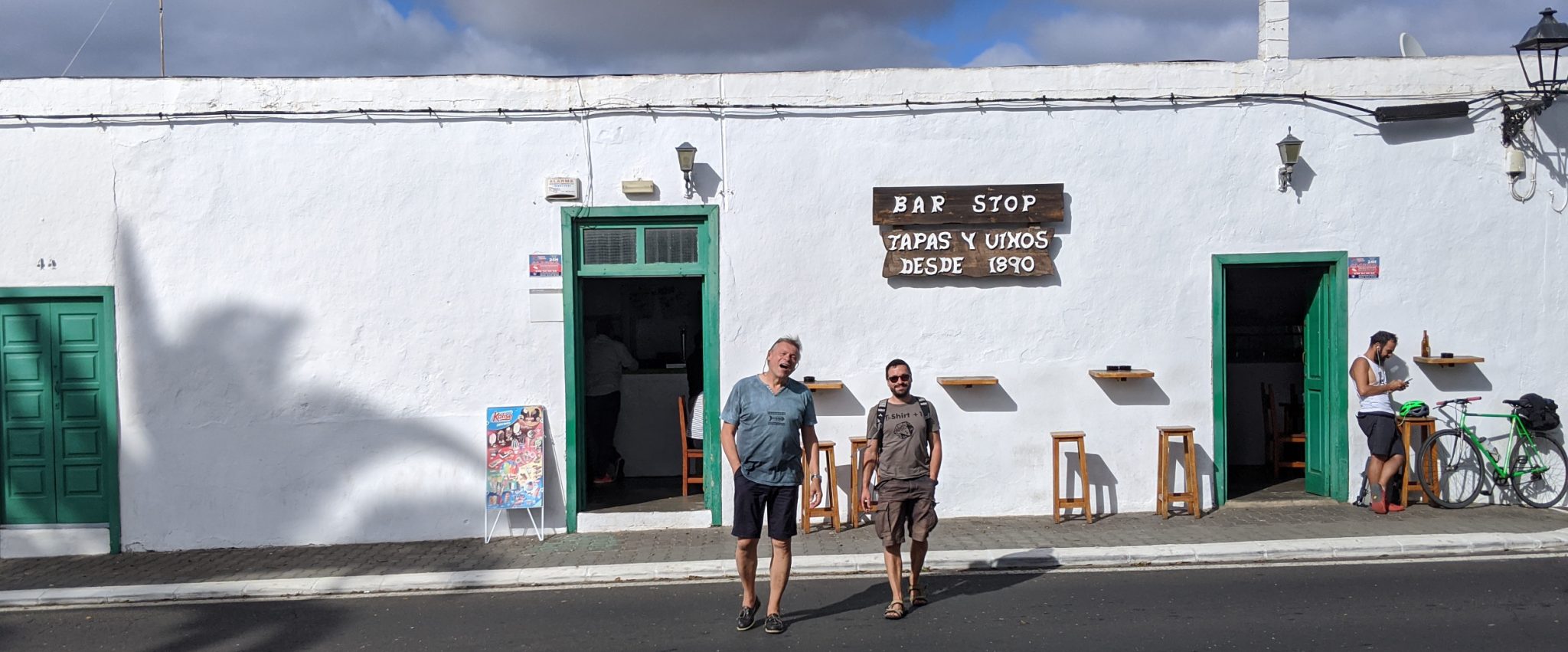 For the wallet, this meal was a real relaxation. For four people it was only 45 € with a starter drink, wine and tapas. From now on it is no longer an insider tip, because it is on the Internet.
The popular saying is that you should rest after a meal or take a thousand steps. We couldn't rest, so we decided to go for a walk. There was still over an hour before the bus was supposed to head back towards Playa Blanca. So we continued the site visit where we had to stop two weeks ago. Inside the little church.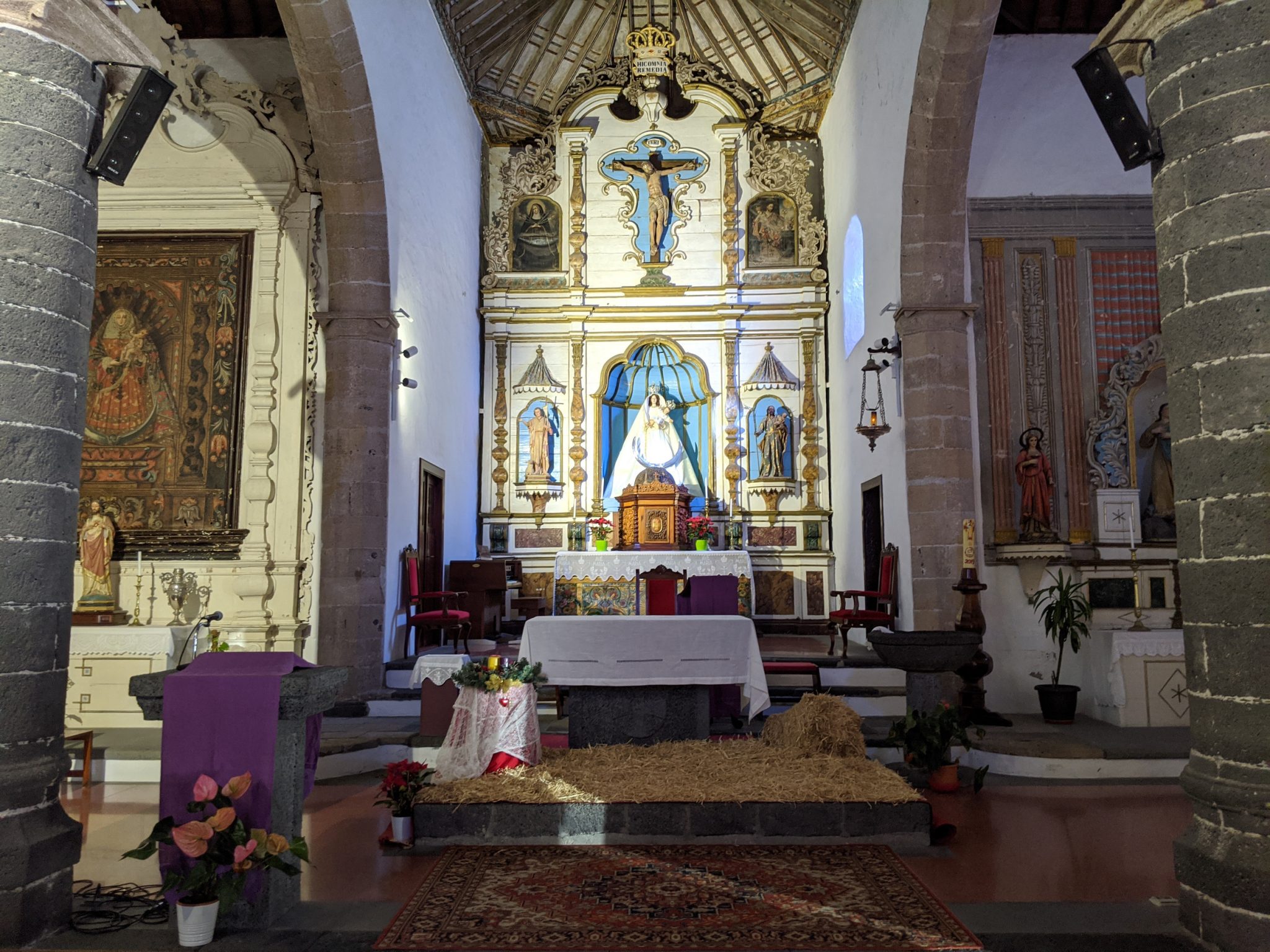 Of course there is a crib in the church. The church is beautifully designed and does not look cluttered. A visit that was worthwhile for us, because on the back of the church we found a kind of "crib". I found it totally cute, because the Yaiza (?) Or Yaizaner or Yaizäner, i.e. the inhabitants of the town of Yaiza, built a miniature Lanzarote.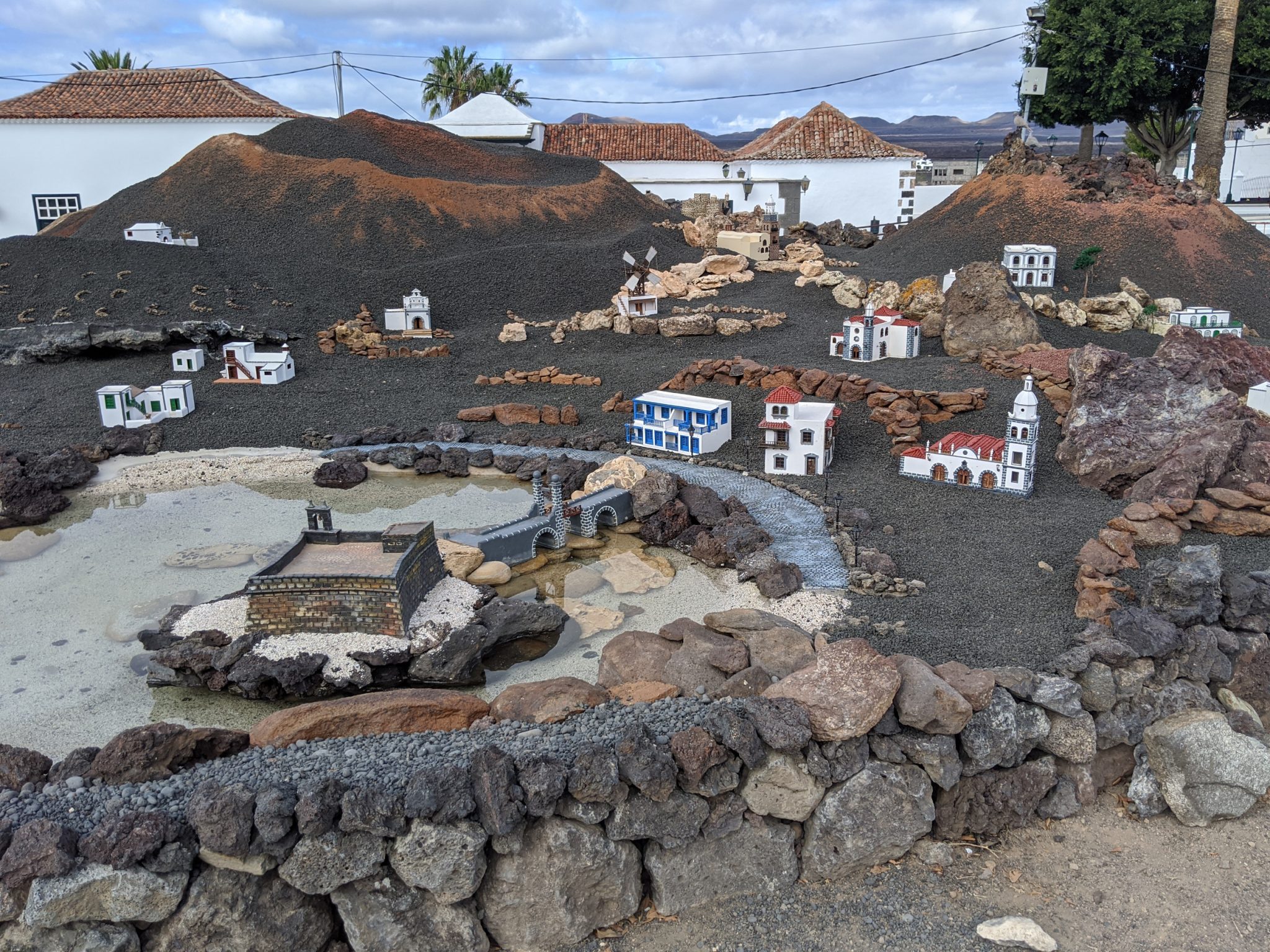 Actually, only one Märklin railway is missing to complete the ensemble. I can only do without it because there are no rails on Lanzarote. You can walk around the installation completely and find, for example, the salt pans, the town of El Golfo or the cooking holes of Los Hervideros. Everything is there!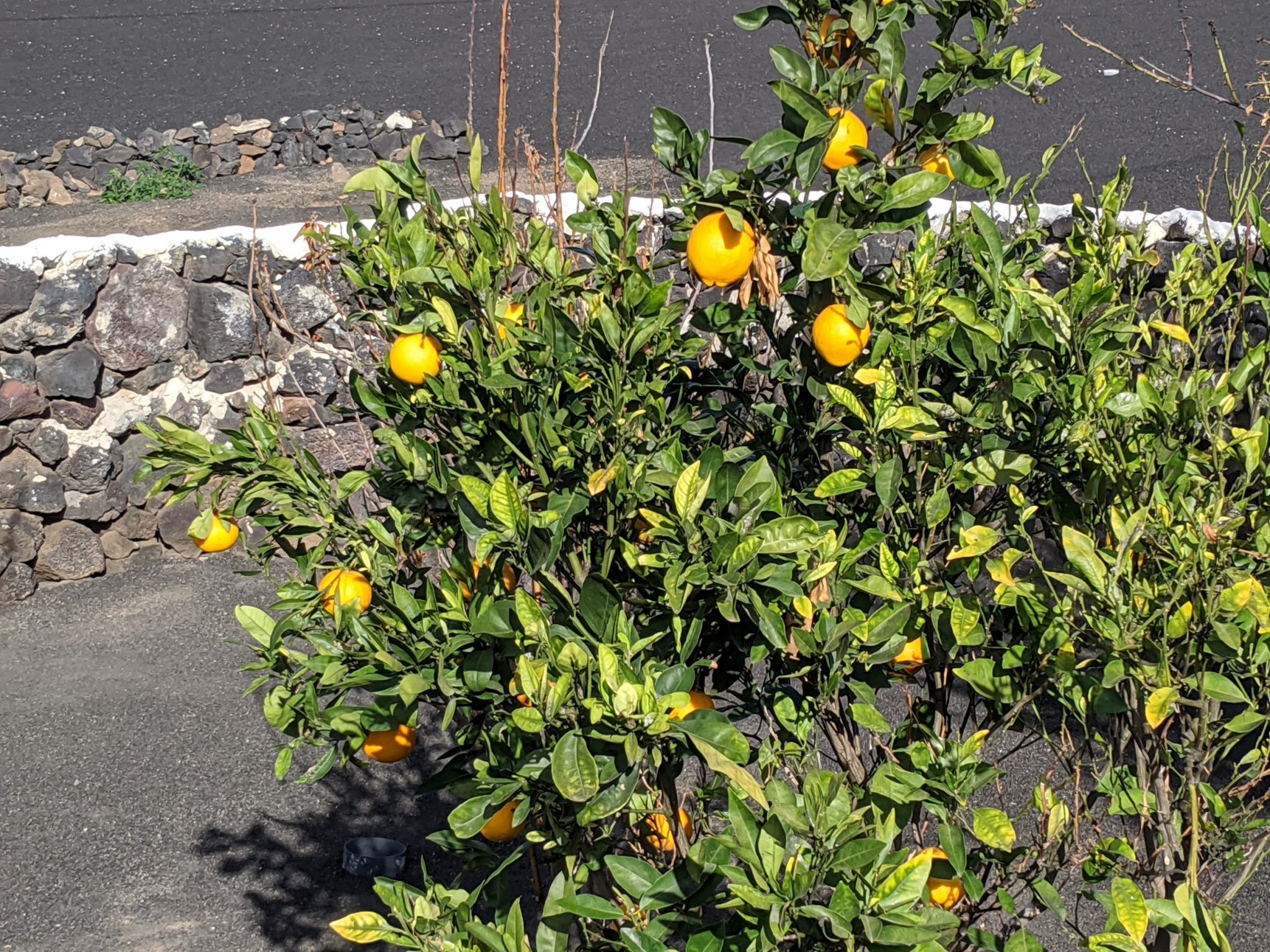 We made fun of sending Christmas greetings back home. For example with lemons as Christmas baubles. The chapos collected ingredients for an advent wreath.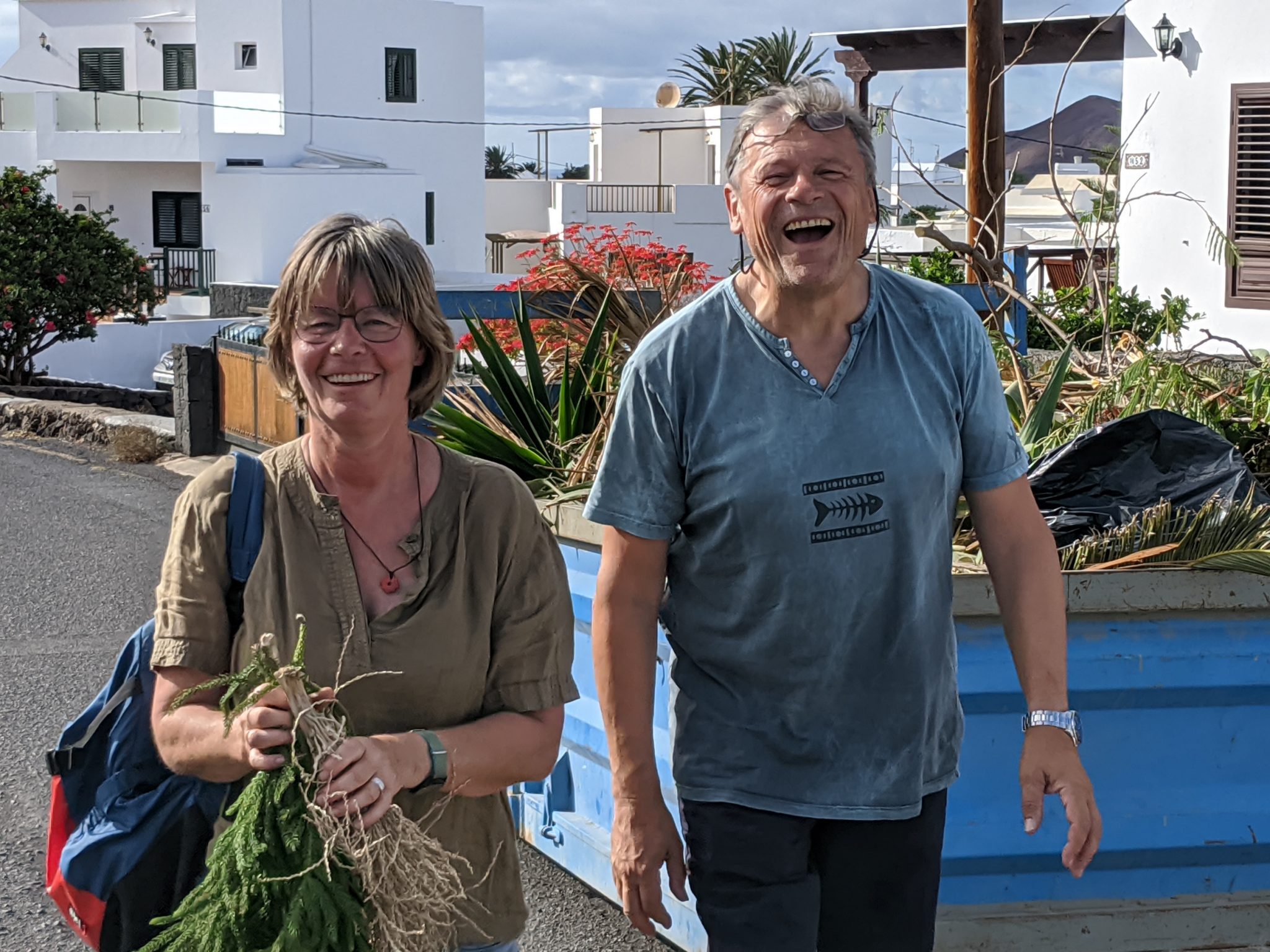 Thanks again for the invitation to eat! Thank you for the nice afternoon we laughed so much.
On such a beautiful afternoon, of course, the obligatory cat should not be missing. This one kept running away from us and was afraid. At some point she finally sat down and watched us suspiciously as we took a picture of her. The cat content was also taken care of.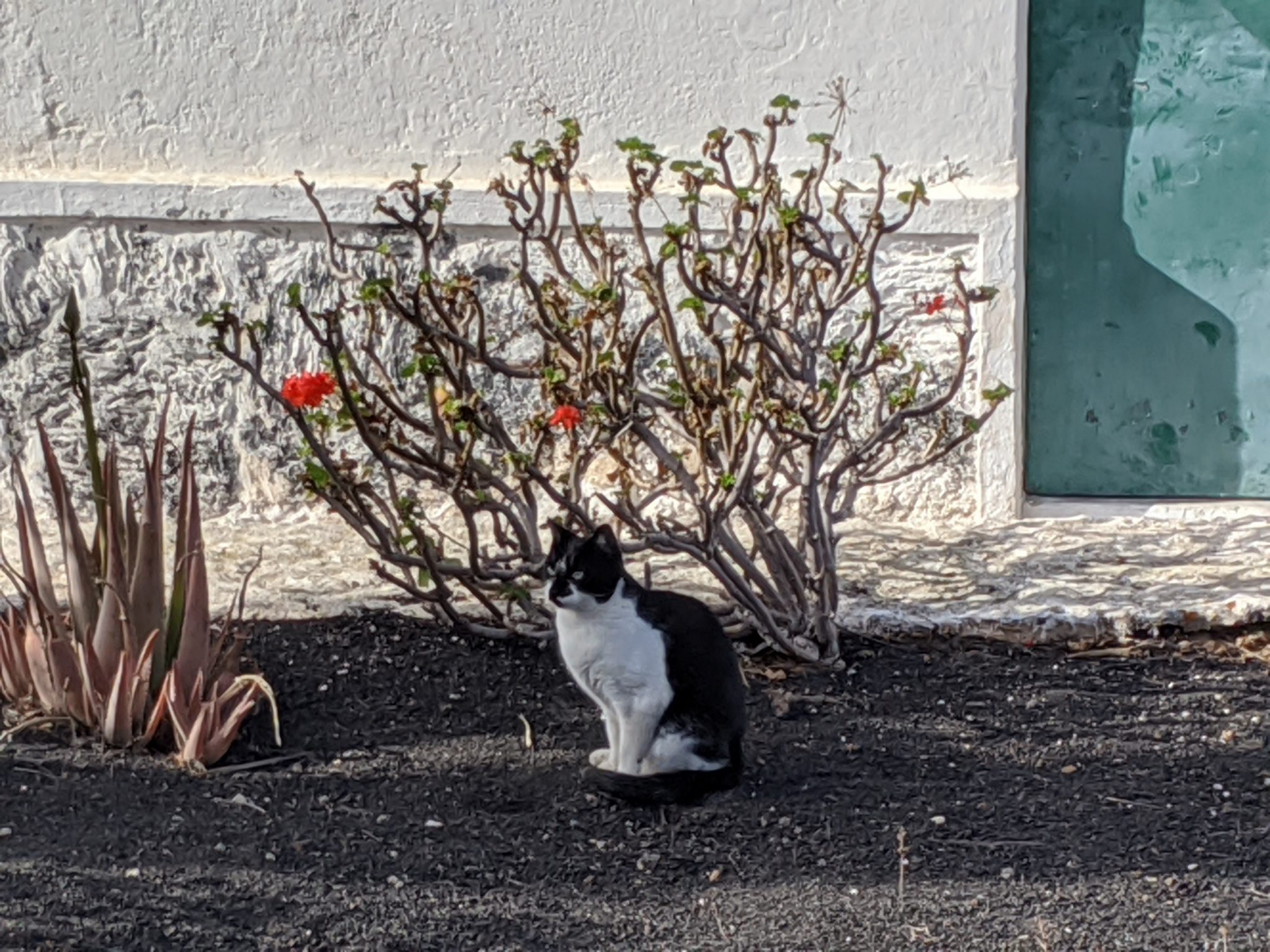 Tired and tired, it was time to move to the bus stop. The buses are not really on time, so the waiting time at the bus stop had to be bridged.
Either I'm not really addicted to my smartphone or it's due to my phone contract with a limited amount of data. I am the only one of our group of four who does not have a cell phone in hand. Jutta holds hers for photography.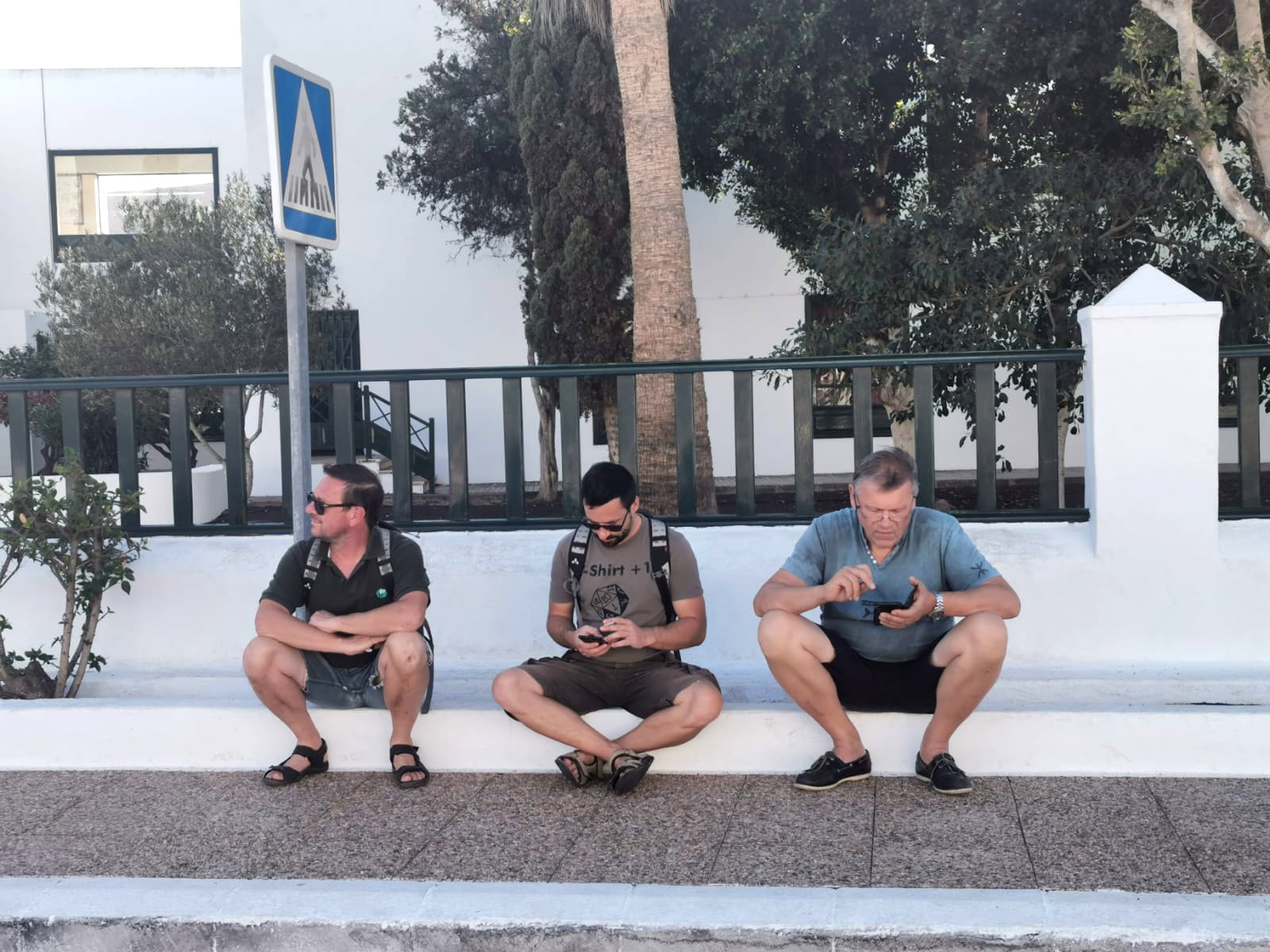 After dark, Jens and I ran through Playa Blanca again to see the Christmas lights everywhere in action. We wanted to see how the Canary Islands decorate for Christmas.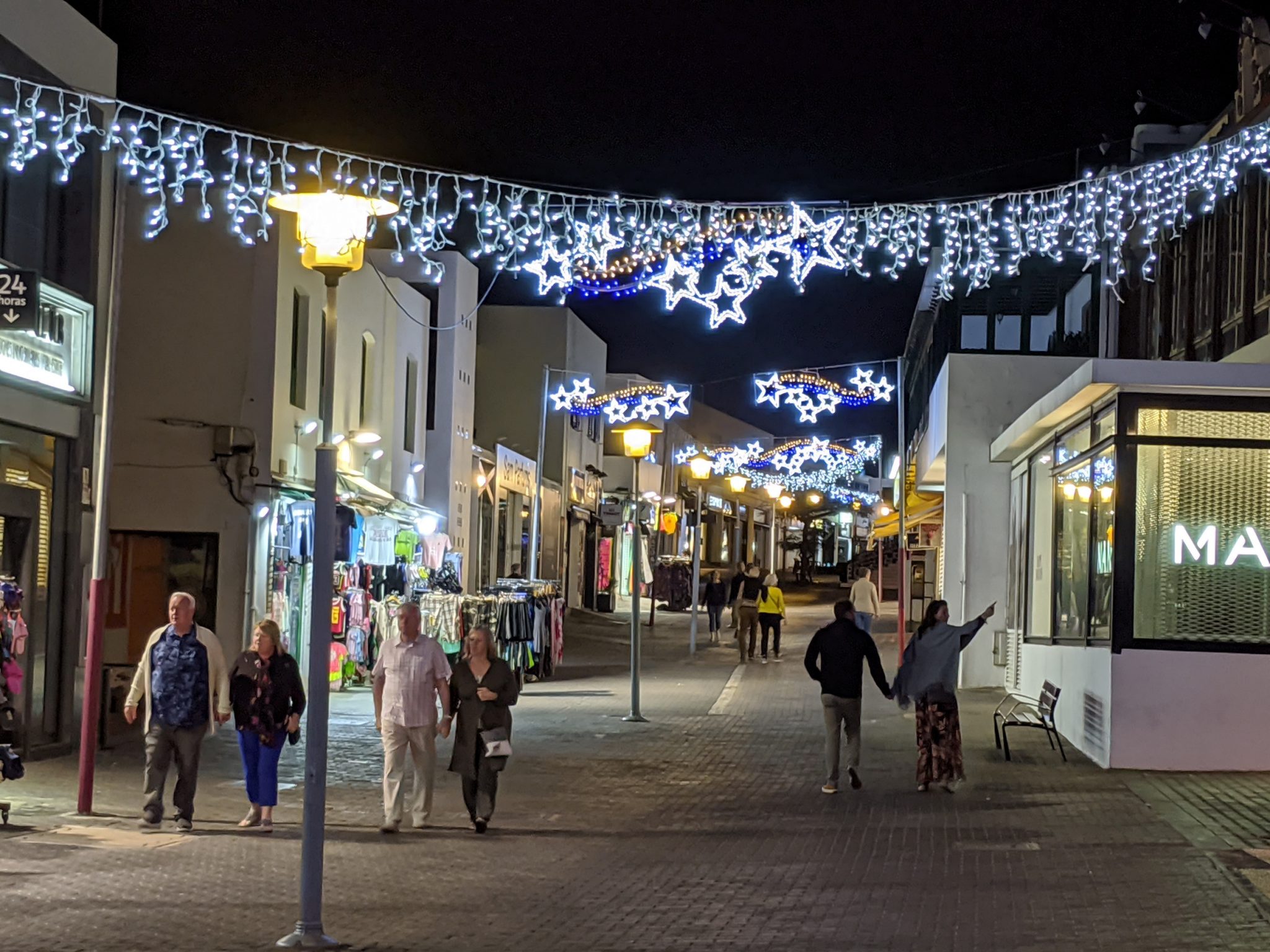 The shopping area could be anywhere in Europe. There you will find the same brands as can be found in a German pedestrian zone, similar Chinese shops and of course souvenir shops on every corner.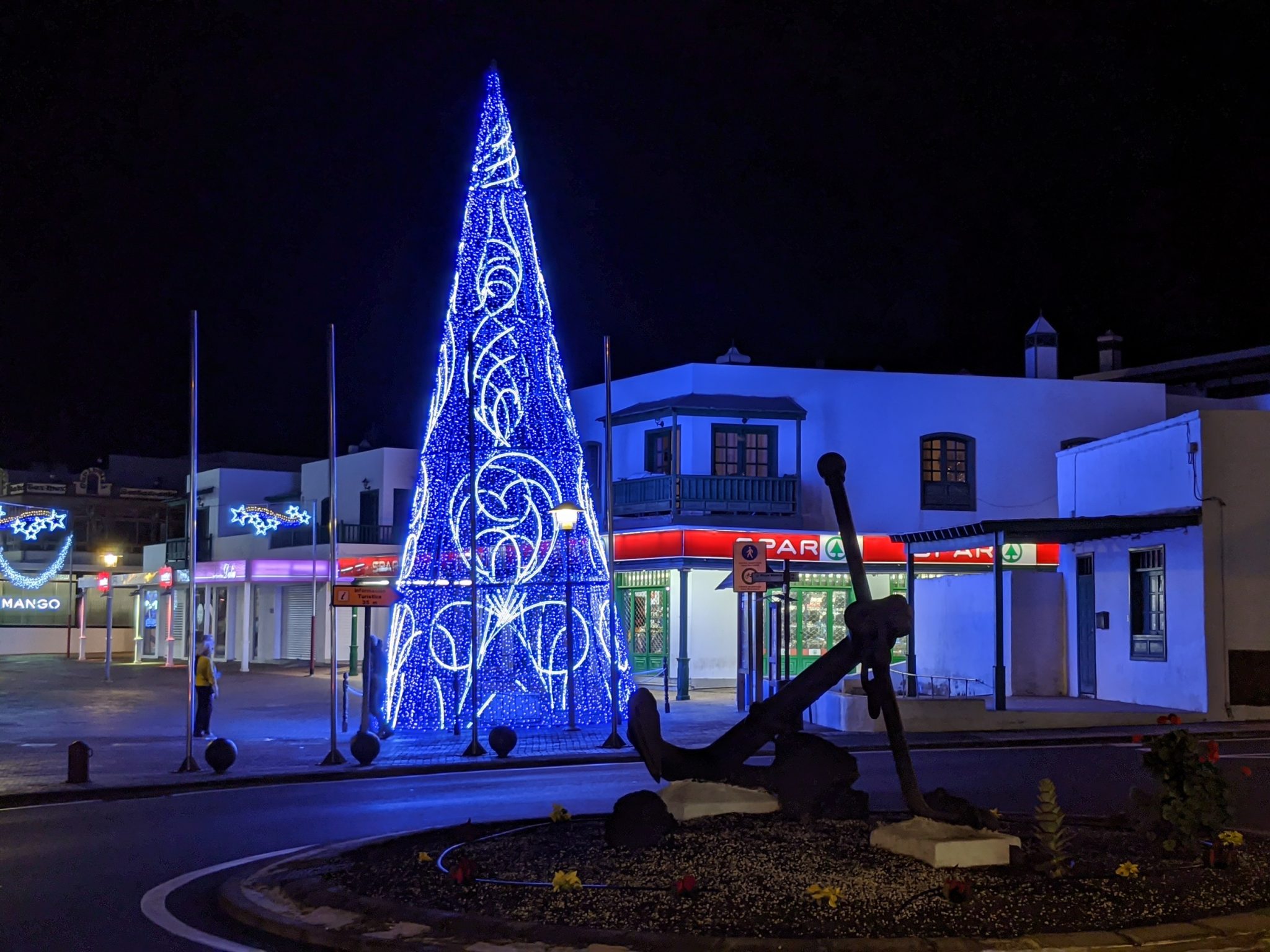 The "tree" is bizarre. A fir tree replacement on an island that has practically no free trees. We didn't have to laugh, but we found the best installation in a traffic circle at the entrance to the town. A Christmas windmill. What does that have to do with Christmas or Lanzarote? No idea.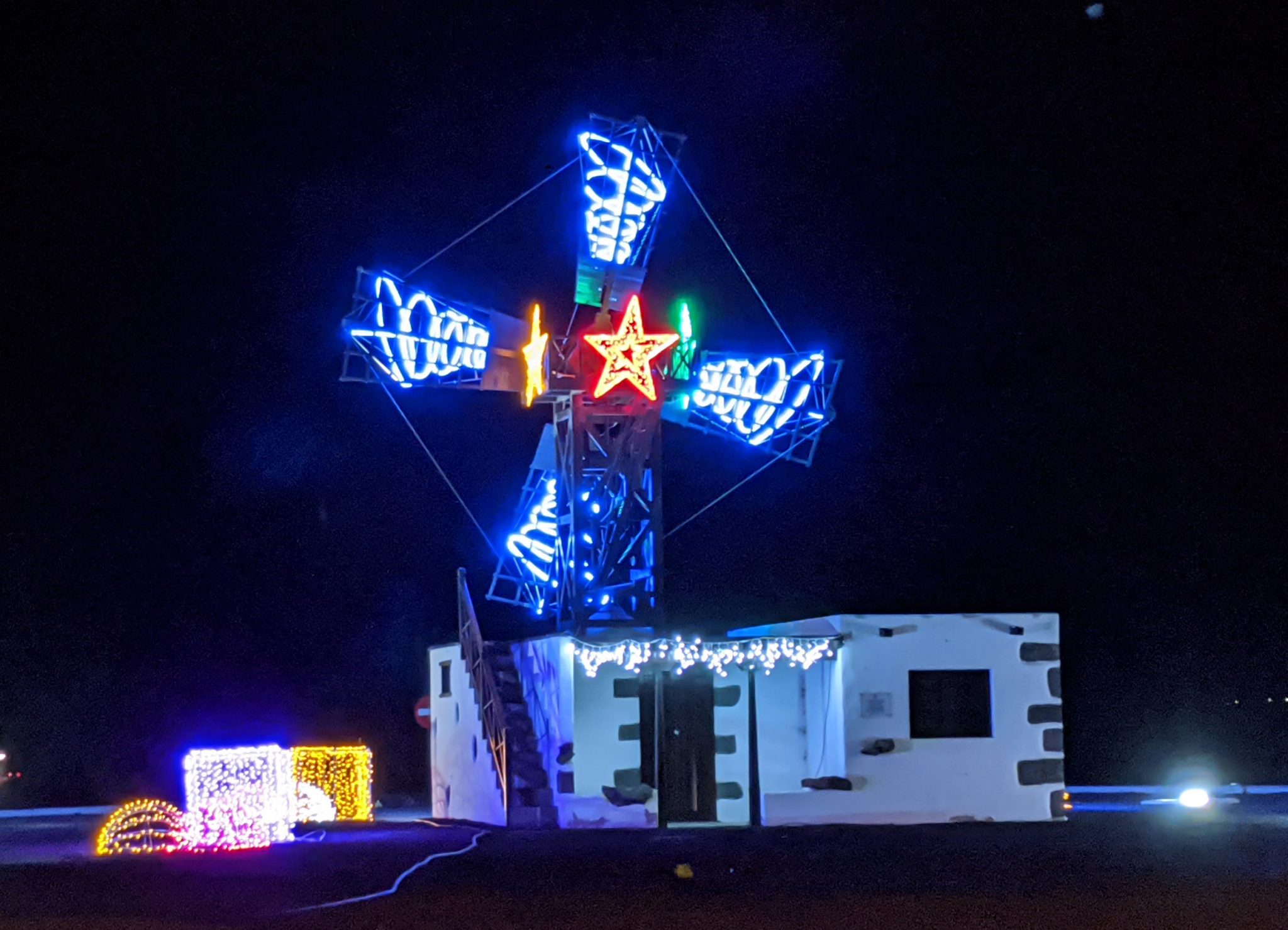 It was enough, the first Advent was almost over. So we took our steps back to the marina, took a picture of a beautiful street cat on the way and then listened to what our mattresses had to whisper to us.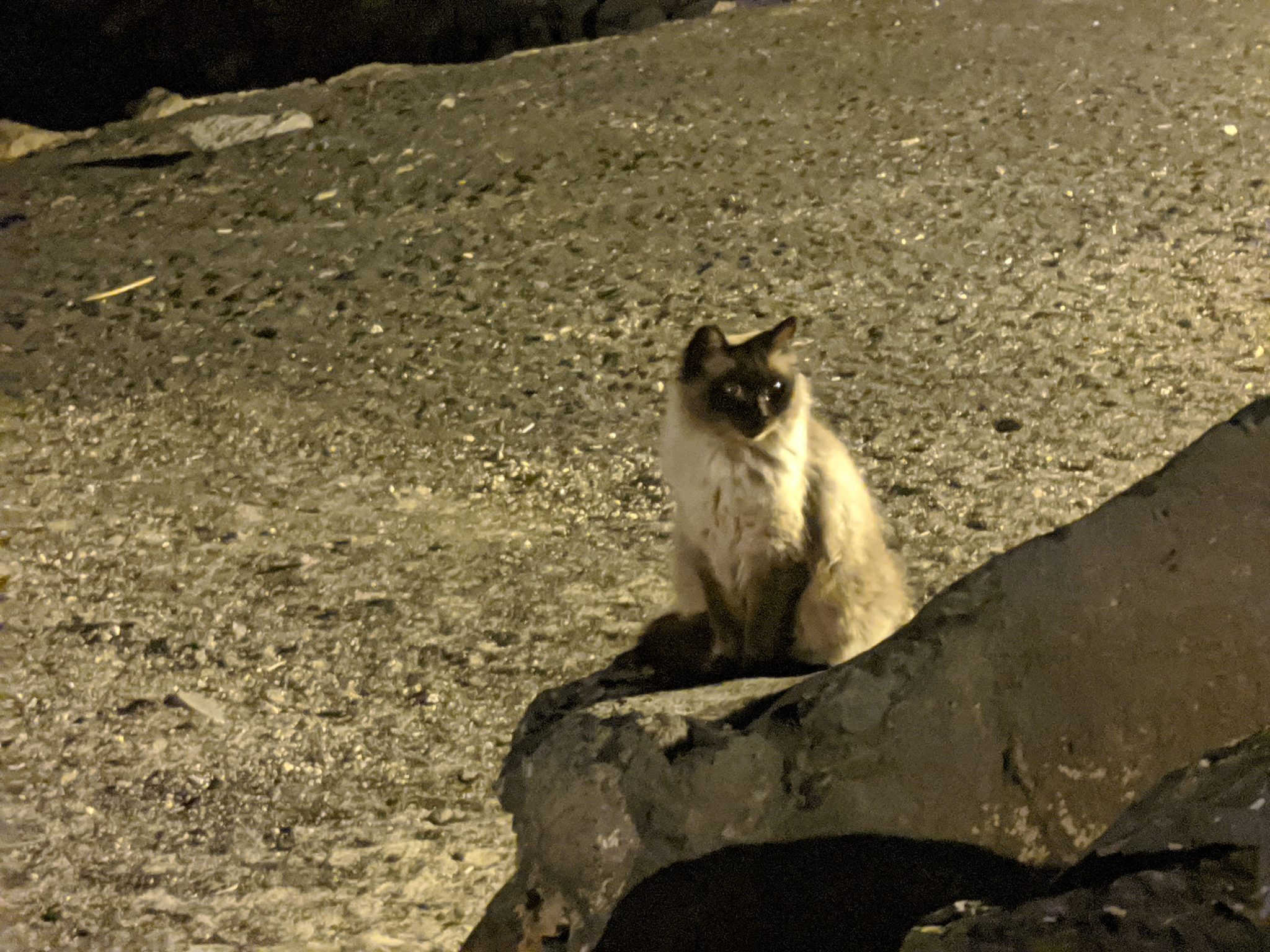 We wish everyone a fun Advent season.