Sometimes wishes come true. Three days ago I wished for more wind, now it's here. He's been there for 36 hours. Nature delivers within two to three days, better than the parcel service I have so often scolded. We fly with a strongly reefed genoa across the Atlantic, the wind is blowing with wind force 7. It is difficult to estimate the wave height correctly. If I write from five meters now, some will dismiss it as a seaman's thread. In reality, it looks like there are waves well over five meters. Down in the salon you hardly notice the height of the waves. It just rocks.
Rod Steward is an ass. How can you produce such a bad sniff through sailing? To fully enjoy the spectacle, I put on my rain gear and sit in the cockpit. Rainwear is a must, because every now and then a wave splashes into our otherwise very dry outdoor area. That's unconfortable. It's not like always.
During the night we showed again that we are really the last sailing packs. We were traveling with an unreefed genoa and the wind pilot could no longer maintain the course. Multiple. At first it didn't occur to us to simply reduce the size of the genoa. Instead we tugged at the windpilot. That took revenge around midnight, on Lanzarote Jens will have to pick up his sewing kit again.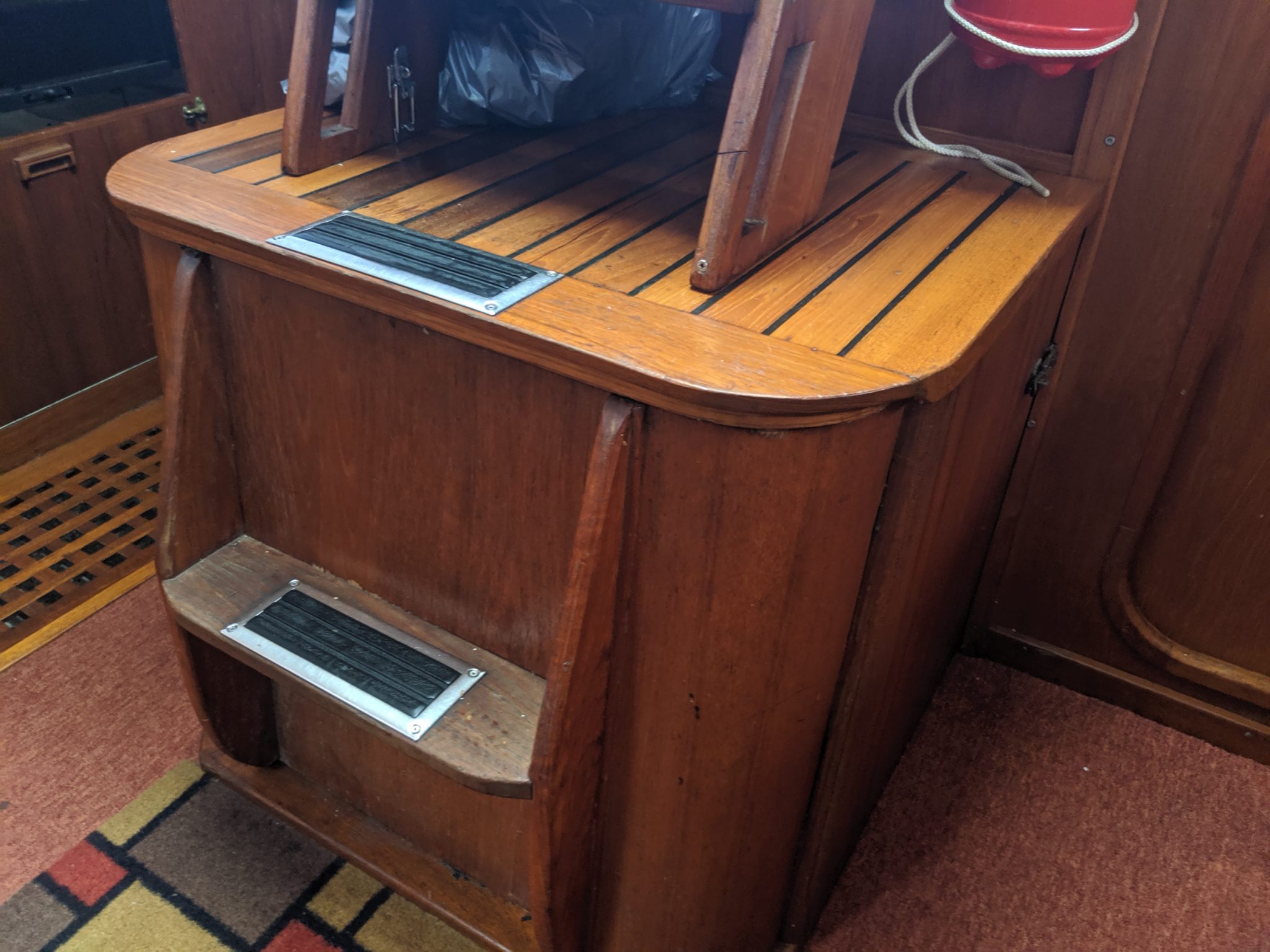 Now everything is good. The wind pilot holds the course better than any helmsman could. Hour after hour, day after day. This is how we want to conquer this ocean. Even with five excellent helmsmen who take turns every half an hour, we wouldn't drive such a nice course. There is no more damage, luckily nothing broke. Optimizing woodwork is progressing below deck. We need more handholds. I screwed on an important handle today. We need a hardware store.
My body feels like a dozen hooligans have beaten me with wooden slats. In the last few days, I've hit every edge that you can hit. When we get to the next port, I won't do anything for a day or two and will enjoy how the bruises gradually disappear.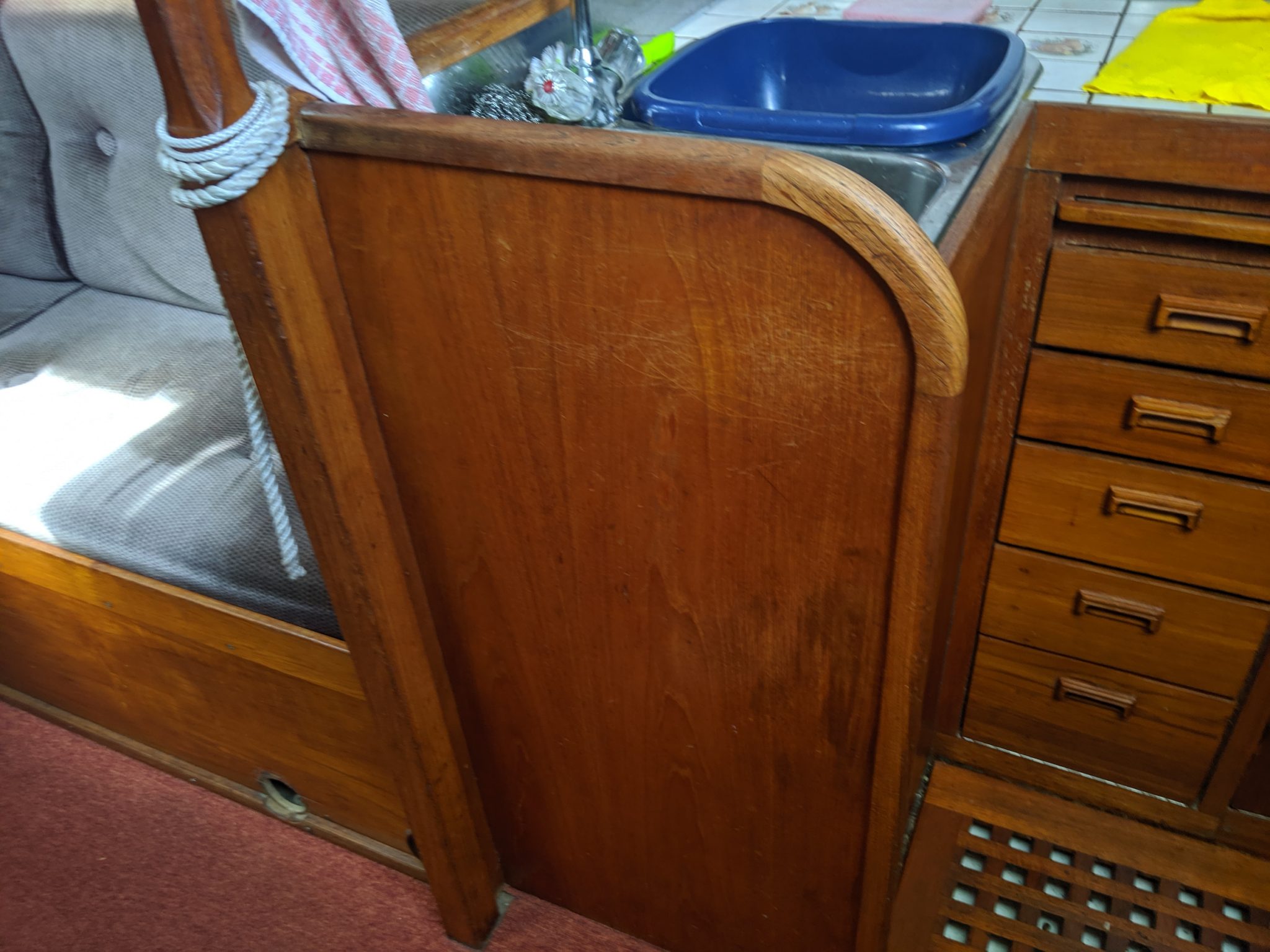 With every movement of the ship, an annoying, loud clacking came from the electrical switch cabinet. Clack (starboard). Click (port). Clack (starboard). Click (port). Clack (starboard). Click (port). I had to remove a solar charge controller and was able to fish out a battery (type AA) from the false bottom underneath. Who put that in there? Now there is peace in the box.
Fortunately, there's still plenty left of the goulash Jens made yesterday. So we don't have to cook today, we just need to warm up the food. That makes things much easier, the production of a "Swinging Oven" episode is only possible to a limited extent in this sea state. This also applies to cleansing the body. We cannot use the shower, we have to use the washcloth to help. Even that is difficult because we always have to hold on to something with at least one hand. Man is a bad design. Why didn't nature let us grow a third hand?
Our electricity production is gigantic. In addition to Sissi, we could also supply the whole of Frankfurt am Main with electricity. I just turned on the watermaker, but there is still power left to continue charging the batteries. The water tank will soon be as full as our batteries. Then we no longer know where to go with the whole stream. Maybe vacuuming again?
I've had to vacuum clean once before, because Jens lost control of the coffee grinder while making coffee. The good beans were distributed through the parlor, as was the ground coffee. That went bad, too bad about the beans, but it smells very good here now.
Incomprehensible! I am currently writing these lines when a wave comes and lets Sissi overtake so far that the watermaker draws air from below! We suck in the seawater at the lowest point of the ship, in the supply line for the engine cooling water. It doesn't get any deeper. This sea cock should always be under water. But it is not. The total madness. It's not like always.
We have more than made up for the delay of the first two days. We will definitely be in Lanzarote on Sunday. Tomorrow then! The Atlantic calls for Metallica, Iron Maiden, Dio and Motörhead. Lemmy is screaming against the wind and that's great. You can already hear us in Lanzarote.
Current position (at 2:30 p.m.): 30 ° 36'N 12 ° 26'W
Fourth Etmal: 145.9 nm (much faster than a DHL package)
Remaining distance: 95 nm
@Chapos: I know you read these lines. You can definitely do it. The IJsselmeer is worse at five Beaufort than the Atlantic at seven Beaufort. See you in the Rubicon Marina. I want my book back. 🙂