We have a plan. At last. Nobody can close the Atlantic to us. That is why we are now planning the return trip to Europe from Aruba. Bermuda is currently open, we could make a stop there, just like in the Azores. As always, it all depends on the wind. In the middle to the end of April we get reinforcements from Frankfurt, Barbara will accompany us on the Atlantic crossing. This will enable Jens and me to sleep a few hours longer. Until then we will do a few more work on the boat, mostly painting work.
It's nice to see how the boat becomes a little more beautiful almost every day. The only thing I don't dare to touch is the ceiling paneling of the salon, it's all too crooked and needs to be renewed in Europe. All in good time. In doing so, neither of us ruin each other. Sometimes Jens goes to the beach or I go to the donkeys, sometimes we work on the boat and sometimes we take care of our vacation. Yes, it now feels like vacation sometimes.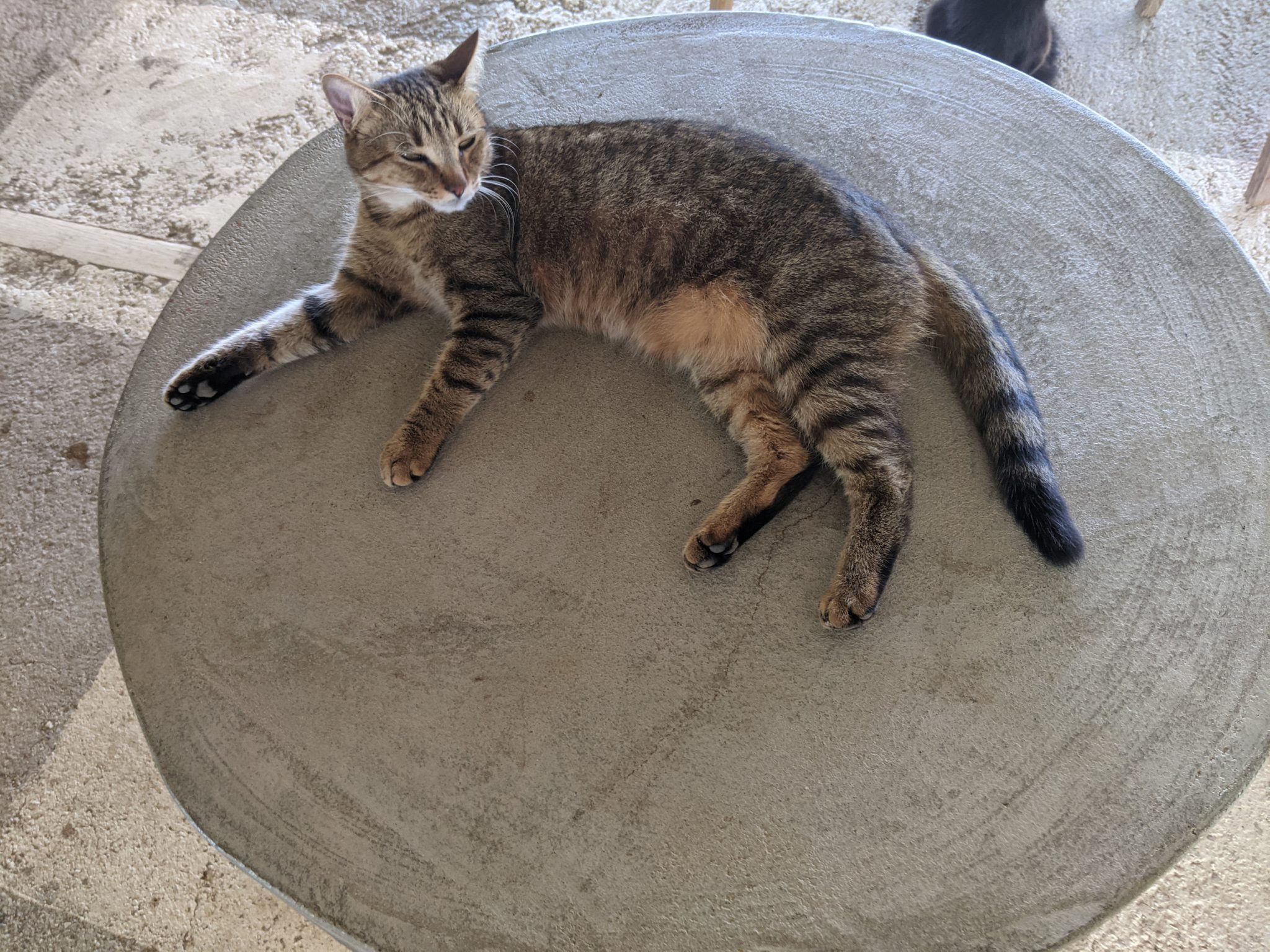 I see Soraida almost every day now. So much for that. It feels good, it feels right I look forward to the future. We want to go sailing on Easter Sunday. Jens tells me that his friends no longer believe that I will leave the island at some point. He would probably have to come home by plane. He doesn't have to.
I miss winter, the change of seasons. Aruba offers eternal summer. I've already missed two winters. Solutions can be devised for all other problems.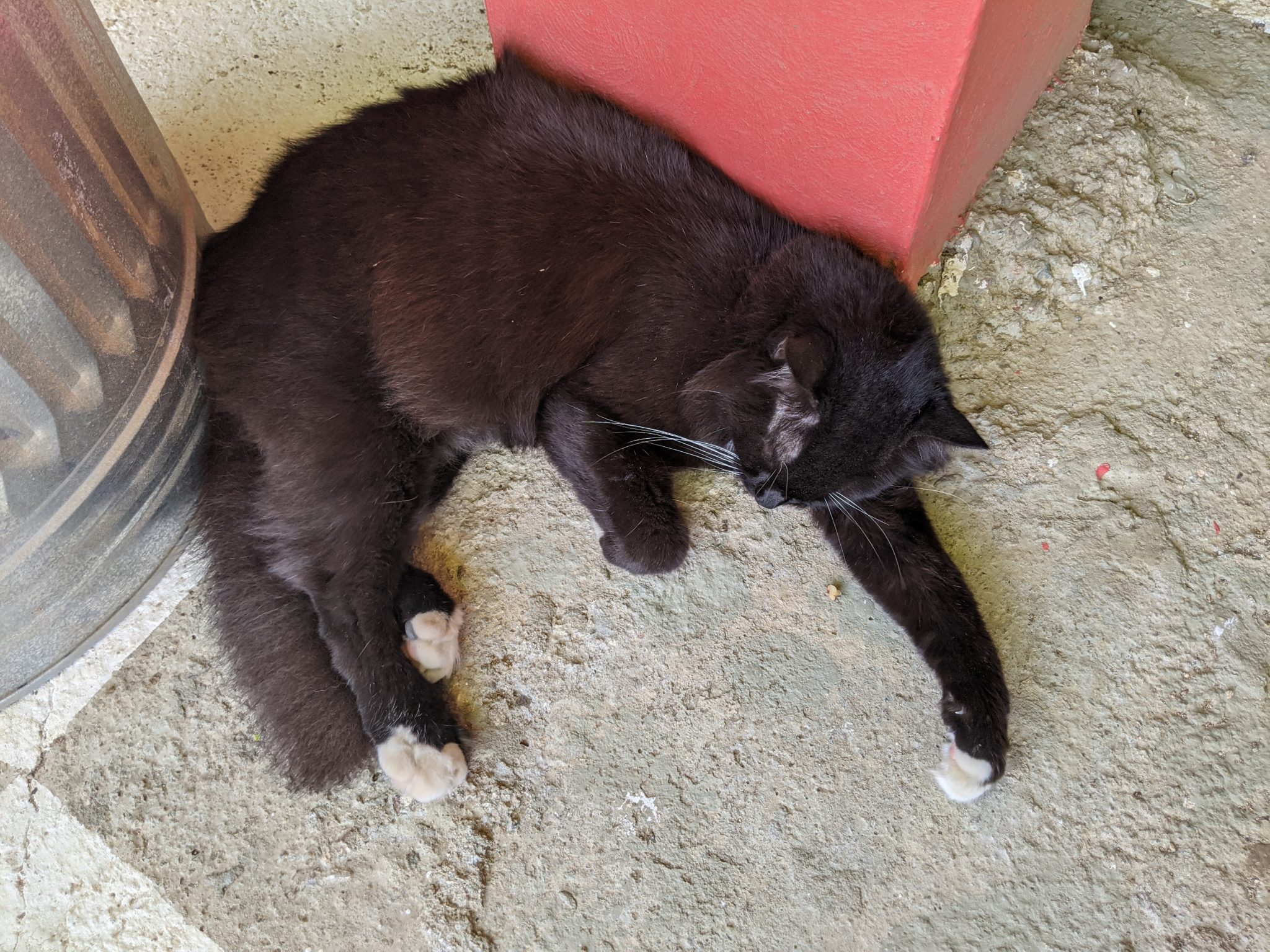 So while not much is happening here, we have good news from our family. Our parents and sister all received their first vaccinations. In view of the current situation in Germany, that calms us down a lot.
But even here in Aruba, the numbers are rising rapidly. That was last after March 18, a national holiday ("Aruba Flag Day"). Now the Easter holidays are just around the corner and the government has tightened the measures. There is a curfew from 10 p.m. to 5 a.m. for everyone. Restaurants and bars have to close at 9 p.m. After 7 p.m. you are no longer allowed to go to the beach. Only two people are allowed on the road and a maximum of four people are allowed in the boat. In particular, violations of the curfew are punishable by heavy fines. Whether because of the measures or because of the beautiful weather, the daily number of new infections has decreased somewhat in the past few days. At times there were over 100 new cases a day, and we've been under 50 again for a few days.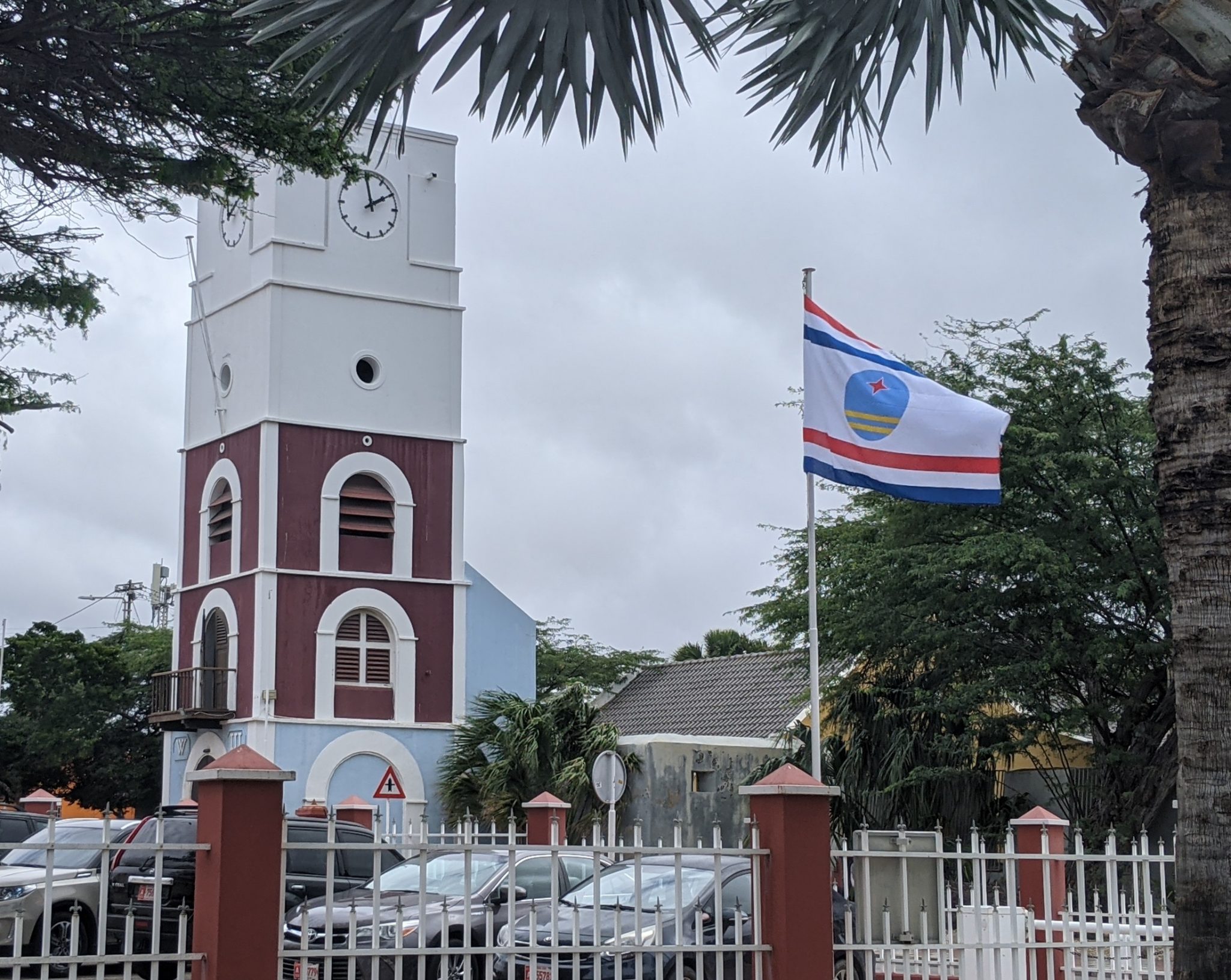 This has nothing to do with Aruba Flag Day. Sometimes you see this flag in front of the parliament building, it's the governor's flag. It consists of the flag of the Netherlands and the Arubas. Anneke described it to me a while ago. She sees them often because she lives on the same street as the governor. When he's at home, it blows on his doorstep. It is always pulled up where the governor is.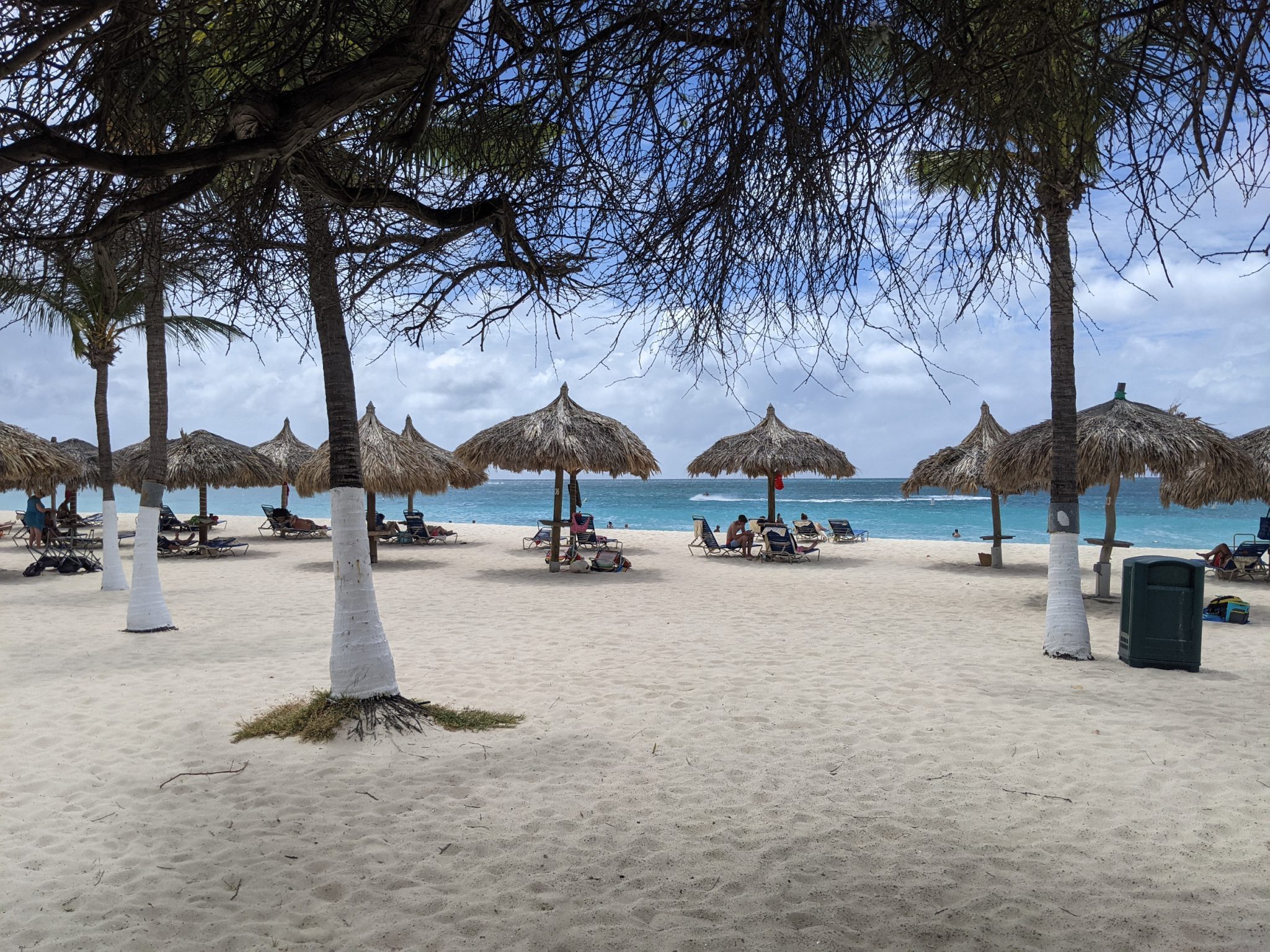 On the way to the supermarket I pass Eagle Beach again. I haven't been there for a long time because Jens has always been shopping by bike for the past few weeks. I prefer to take the bus, then I don't have to drive against the wind on the way back. Actually, the island seems very crowded to me, but the beach shows that the island's infrastructure can withstand a lot more tourists. I can also see it in the fact that not everyone is still going back to work. Edward, for example, is still waiting for his employer to reassign him. Fortunately, there is still government money for such people.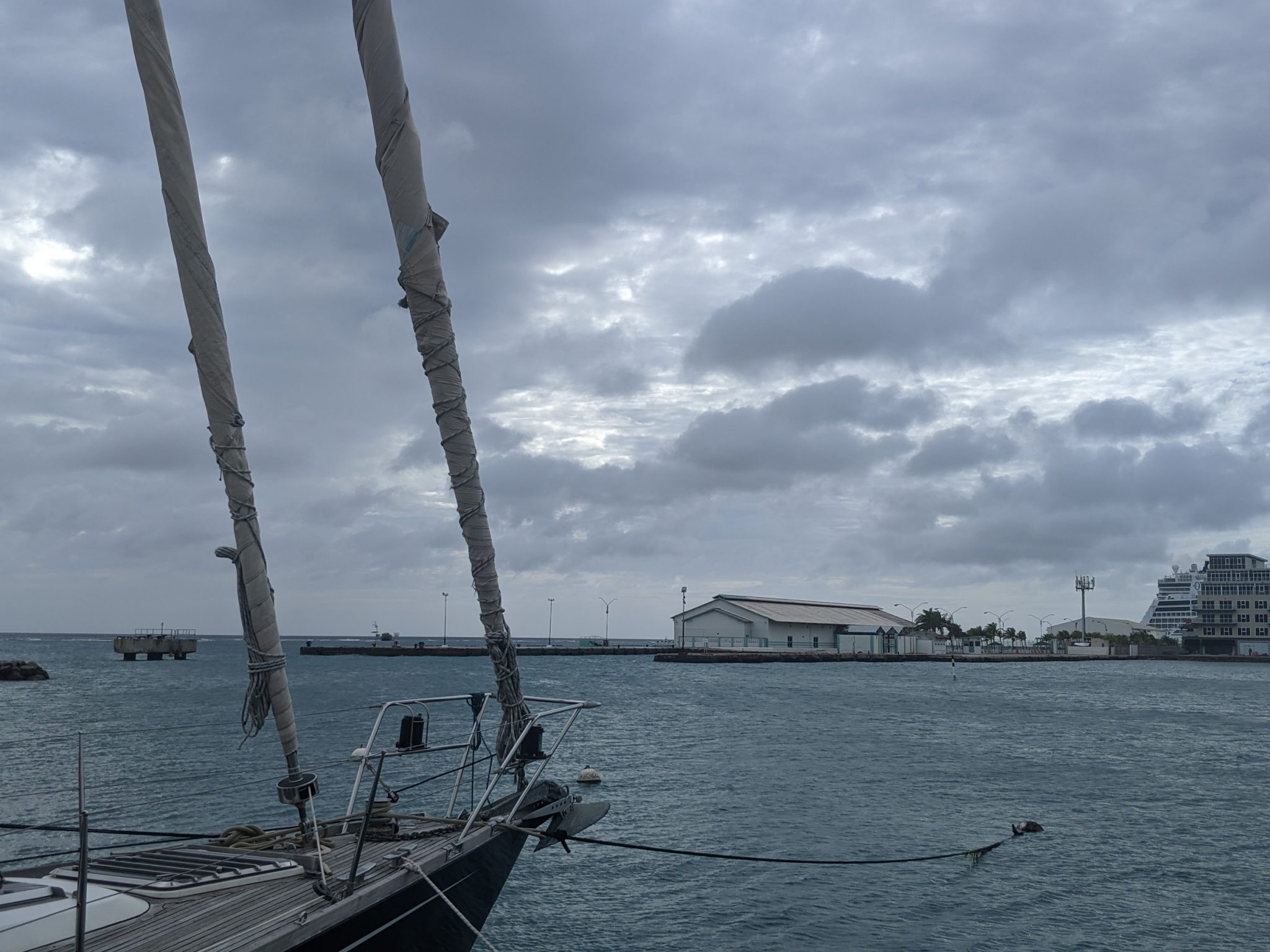 This picture is rare. The two high-rise - uh - cruise ships are on their way. Of course they will come again, but for a day or two the view of the lake is unobstructed.
I sit down at the computer and order things online that we can't get in Aruba or that are too expensive here. They will all find their way in Barbara's luggage. Excess baggage is cheaper, faster and more reliable than transport by post. We have to switch back to the data flat rate for satellite telephones so that we don't become poor. Otherwise almost everything is dry. Time to relax.